Posted by Elena del Valle on July 8, 2008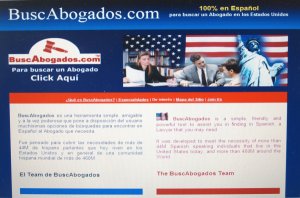 BuscAbogados.com – click on image to enlarge
Photos: BuscAbogados.com
In May 2008, BGB Holding Group Corp launched BuscAbogados.com (Spanish look for a lawyer), a new website in Spanish for adults in the United States, Latin America and Spain, who have access to the Internet and are seeking the services of a United States attorney. It took two years of development work to design the website as a bilingual search engine able to recognize key search words in Spanish and English.
The newly launched website lists 7,000 Florida attorneys. BuscAbogados relies on seven employees in the United States and 50 in Argentina. In addition to English and Spanish press releases, company representatives are promoting the website with printed promotional materials distributed in markets with large Hispanic populations as well as advertising in Miami area Hispanic publications.
---
"How to Use Your Energy to Attract Clients and Customers" audio recording
Presenter Heather Dominick, owner, EnergyRich Coaching, Inc.
A 106-minute audio recording including a presentation by Heather and the complete interview with Heather where she discusses:
Heather's step by step system for women entrepreneurs
Her coaching philosophy that an individual needs to be business at a holistic level
Core beliefs about creating magnificent marketing for your business
How Heather transitioned from a high school drama teacher to a coach
The three Os that characterized her life at the time
Heather's first steps to changing her life
Click here for information on How to Use Your Energy to Attract Clients and Customers
Ready to buy? Select a format to add to your shopping cart:
Downloadable " How to Use Your Energy to Attract Clients and Customers " MP3 $119.95
Audio CD's "How to Use Your Energy to Attract Clients and Customers " $139.95
---
BuscAbogados.com marketers have concentrated their efforts on website optimization in the hope of positioning the portal among the most important Internet search engines, as well as regionally-focused search engines in Latin America where they believe their services will also be of interest.
Luis Bregni, president, BuscAbogados.com
"We're excited to be able to help the growing Hispanic market find the lawyers they need, and feel the Internet is our best medium for doing so," said Luis Bregni, president and owner of BuscAbogados.com. "The Internet is actually more than perfect; it's where millions of people first turn to for finding restaurants, jobs and even medical advice. So, why not give lawyers their own spot on the World Wide Web in this niche market and, at the same time, open up an easy avenue for the online Hispanic user to search for a lawyer."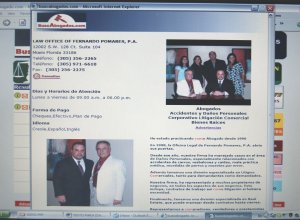 Click on image to enlarge
The website allows visitors to browse free and invites law firms to place ads for a monthly fee. For example, the $39 Standard Package offers law firms a listing with a photo and a 500-word description. There are also Professional, Premium and Platinum packages.
Bregni, originally from Argentina, has 25 years of experience working with Argentine banks and other financial institutions. He holds a degree in Economic Sciences from the University of Buenos Aires and is director of Grupo NOP in Argentina.
Two other executives, Erwin Diaz-Solis and Julio Stieffel, are listed on the BuscAbogado pages in addition to Bregni. Diaz-Solis specializes in immigration law and is a graduate of Nova Southeastern University in Fort Lauderdale, Florida. Stieffel, a graduate of the University of Miami, founded Americas Rep International, an international consulting firm specializing in the Latin American market. BuscAbogados.com, a Miami Springs company, is managed by BGB Holding Group Corp., Grupo NOP Argentina's North America division.
---
Hispanic Marketing and Public Relations Understanding and Targeting America's Largest Minority book

"A must resource for practitioners/professionals expecting to reach US Hispanics; also valuable for college programs in marketing, public relations and communications. Highly recommended."
Choice magazine
Click here for information on the Hispanic Marketing & Public Relations books
---