Posted by Elena del Valle on July 3, 2008
Information provided by our Event Partner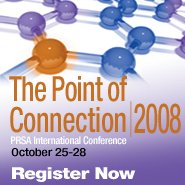 Make Your Connections
Online registration for the PRSA 2008 International Conference — The Point of Connection — is now open! It only takes a few minutes to secure your spot at the biggest public relations event of the year. Register online today for the Conference and you will save $200!
Join more than 200 leading experts during four jam-packed days of 100+ Professional Development sessions in Detroit, October 25 – 28. Gain insider strategies and techniques on the hottest topics including social media, emerging technologies, green marketing, reputation, branding, integrated communications — and much more! Network with thousands of your peers throughout the Conference workshops and make new connections at our opening night event, networking dinners, luncheons and breaks. Return to your work inspired and ready to incorporate your new knowledge into your communications programs.
Visit prsa.org/conf2008 to view the full Conference schedule and to download a PDF of the Conference brochure.
Don't miss keynote speakers Mitch Albom, best-selling author of "For One More Day," "The Five People You Meet in Heaven," and "Tuesdays With Morrie"; award-winning sports columnist; and founder of metropolitan Detroit area charities, The Dream Fund, A Time To Help and S.A.Y. Detroit; Bob Lutz, automotive industry legend; General Motors vice chairman, global product development; blogging enthusiast on GM's successful Fastlane Blog; and author, "Guts: 8 Laws of Business From One of the Most Innovative Business Leaders of Our Time"; and Penelope Trunk, author of "Brazen Careerist: The New Rules for Success," the guide to successfully navigating the modern workplace; blogger of the popular Brazen Careerist blog; and syndicated columnist at the Boston Globe.
Book Your Hotel
To help you budget your money wisely, we've arranged discounted room rates starting at $165 single/$185 double at the Conference hotel, the Detroit Marriott at the Renaissance Center. Call 1-800-266-9432 or visit prsa.org/conf2008/?event=hotels. Click on "Detroit Marriott" to link directly to offer details and to make your reservation.
Get more bang for your buck — this is the one event that covers all aspects of public relations and communications. Register online today and save $200.
We look forward to connecting with you in Detroit!
To learn more about the 2008 PRSA International Conference, go to www.prsa.org/conf2008/.