Posted by Elena del Valle on June 24, 2008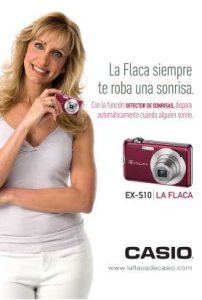 Casio Spanish language ad
Photos: Revolucion NYC
Casio executives recently decided to introduce one of their products to Spanish speaking Latinos in the United States for the first time. Revolucion NYC won the account with an ad campaign touting the benefits of the EXILIM EX-S10, a thin digital camera, and recruiting television celebrity Lili Estefan, known by her nickname La Flaca, as spokesperson.
"Why don't we have La Flaca selling another flaca," said Amy Gomez, managing partner and director, Account Services at Revolucion NYC about the brainstorming session where the campaign was born. "Two weeks after that thought we were shooting in Miami."
Amy Gomez, managing partner and director, Account Services at Revolucion NYC
To begin, Casio staff selected two markets, Houston and Los Angeles, to launch the campaign which began running May 6 and will conclude in early July 2008. The two-pronged campaign is appearing on 30-sheet billboards in Houston and 8-sheet billboards in Los Angeles and online.
Spanish speaking residents of Los Angeles and Houston who see the banner ads are driven to a microsite created by the agency. Consumers are invited to purchase the camera at retail stores, especially through Best Buy and La Curacao, two program partners.
Casio Spanish language ad – click on image to enlarge
According to Gomez, after trying out the camera for the first few days, Estefan was so enthusiastic she requested 15 more cameras to give as gifts to her friends, and volunteered eagerly to assist in the public relations efforts for the camera.
---
Make your ads resonate with Hispanics
Listen to C&R's Research Director Liria Barbosa in
"Hispanics' Perspective on Advertising" audio recording

Liria Barbosa gives a presentation and participates in an extended Q&A discussion about
• Type of ads Latinos prefer
• Latino top media choices
• Percent of Latinos who tried products because of ads
• Percent of Latinos who purchased products because of ads
• What makes an ad "Hispanic"
• If ad language is important for bicultural Latinos
• What to keep in mind when targeting bicultural Latinos with ads
Click here for information on Hispanic Perspectives on Advertising
---
The agency produced seven different ads, each one boasting about a different feature, according to Roberto Alcazar, executive creative officer at Revolucion NYC. It took three creative team members two months from beginning to end to create and develop the ads. The team members were Alcazar, Josefina Fuster, and Alberto Rodriguez. The photos were taken at Kikor Studio in Miami.
"Revolucion presented us with an integrated, turnkey approach to bring this unique product to the market," said Sue VanderSchans, director of Strategic Communications and Marketing, Casio America.
Plans are to add Miami and one additional market and restart the campaign in October 2008 in time for the holiday season. The camera sells for $249.99 and is 3.71 inches wide by 2.15 inches tall and .59 inches thick. At its thinnest it is 0.54 thick, giving rise, according to Gomez, to the camera's Spanish language nickname of la flaca. The weight, excluding battery and accessories, is 3.99 ounces.
Revolucion Hispanic Communications is a seven year old Hispanic-owned brand-communications agency based in New York City. The Japan based Casio Computer Company Ltd. was founded in 1957 and has 13,202 employees.
---
"Moving Beyond Traditional Media Measurement: measuring conversations and social media" audio recording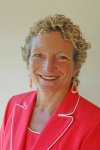 Presenter Katie Delahaye Paine, founder, KDPaine & Partners
Find out about
Issues affecting online public relationships today
Testing relationships as part of a survey
Measuring ethnic group relationships
Measuring foreign language communications in a similar ways to English
Biggest challenges measuring conversations and social media
Measuring online relationships with little or no money
Click here for information on "Moving Beyond Traditional Media Measurement"
---