Posted by Elena del Valle on June 20, 2008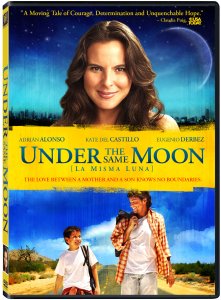 Under the Same Moon DVD cover
Photo, video: Twentieth Century Fox Home Entertainment
On June 17, 2008 Fox Entertainment released Under The Same Moon (La Misma Luna) on DVD, a story about the journey of a boy from Mexico to the United States to find his mother. The 106-minute film in English and Spanish, a 2007 Sundance Film Festival Crowd Pleaser, was first released in the United States in October 2007 and again in March 2008. The DVD sells for $29.98. Scroll down to watch video trailers of Under the Same Moon.
The film stars Adrian Alonso (The Legend of Zorro), Kate del Castillo (El Derecho de nacer) and Eugenio Derbez, (Los Perplejos), Jesse Garcia (The Comebacks), Carmen Salinas (Man on Fire) and America Ferrara (Ugly Betty) in a PG13 film from first-time director Patricia Riggen.
Under The Same Moon portrays the parallel stories of nine-year-old Carlitos (Alonso) and his mother, Rosario (Del Castillo). Hoping to make a better life for her and her son, Rosario works illegally in the U.S. while her mother cares for Carlitos in Mexico. Unexpected circumstances drive Rosario and Carlitos to embark on their own journeys in an attempt to reunite. Along the way, mother and son face challenges and obstacles while maintaining the hope of being together again.
---
Make your ads resonate with Hispanics
Listen to C&R's Research Director Liria Barbosa in
"Hispanics' Perspective on Advertising" audio recording

Liria Barbosa gives a presentation and participates in an extended Q&A discussion about
• Type of ads Latinos prefer
• Latino top media choices
• Percent of Latinos who tried products because of ads
• Percent of Latinos who purchased products because of ads
• What makes an ad "Hispanic"
• If ad language is important for bicultural Latinos
• What to keep in mind when targeting bicultural Latinos with ads
Click here for information on Hispanic Perspectives on Advertising
---
Under The Same Moon is presented in widescreen format with English, French and Spanish subtitles, and includes commentary, deleted scenes and two featurettes. Bonus content includes The Murals of Under the Same Moon Featurette and The Making of La Misma Luna Featurettes.
Twentieth Century Fox Home Entertainment LLC is the marketing, sales and distribution company for Fox film and television programming on DVD, Blu-ray Disc (BD) and Digital Copy as well as acquisitions and original productions. The company also releases all products around the globe for MGM Home Entertainment. Twentieth Century Fox Home Entertainment LLC is a subsidiary of Twentieth Century Fox Film News Corporation, a News Corporation company.
---
Click here to buy Under the Same Moon
---