Posted by Elena del Valle on June 17, 2008
A scene from Gabriel in Venice
Photos: WSBS
Spanish Broadcasting System, Inc. will release Gabriel, its first mini series, in September 2008. Filmed in Miami, Venice and Puerto Rico, Gabriel is 12 hours long and will be broadcast in10 episodes. DirecTV Más will co-produce the project which was filmed in high-definition with 3-D animation.
Two well known personalities will be part of the series, Chayanne and José Luis Rodríguez "El Puma." Chayanne plays Gabriel, a modern-day vampire in the network's first miniseries produced by Megafilms, the company's new entertainment division. Rodriguez plays Pizarro, another vampire.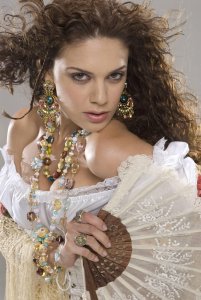 Mexican actor Angelica Celaya as Eva
The female lead is played by Mexican actor Angelica Celaya as Eva. In Gabriel, Eva is a beautiful and dedicated nurse who works at an Emergency Room. A direct bloodline descendant of Gabriel's former wife, Eva is the reincarnation of Gabriel's lost love. Her mysterious nightly dreams about her ancestry are heightened when Gabriel appears in her life.
---
Make your ads resonate with Hispanics
Listen to C&R's Research Director Liria Barbosa in
"Hispanics' Perspective on Advertising" audio recording

Liria Barbosa gives a presentation and participates in an extended Q&A discussion about
• Type of ads Latinos prefer
• Latino top media choices
• Percent of Latinos who tried products because of ads
• Percent of Latinos who purchased products because of ads
• What makes an ad "Hispanic"
• If ad language is important for bicultural Latinos
• What to keep in mind when targeting bicultural Latinos with ads
Click here for information on Hispanic Perspectives on Advertising
---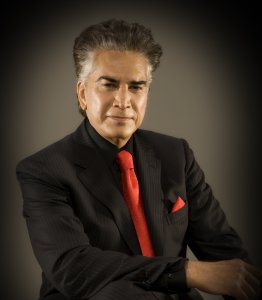 José Luis Rodríguez "El Puma"
Laura Ferretti plays Maribel Delgado, Eva's best friend and roommate. Maribel studies psychology and works nights as a waitress at a bar in Miami Beach to pay for her college tuition. In her spare time she studies the tarot cards and explores the occult.
Sebastián Ligarde, a Mexican actor, is Santori, a religious investigator and fanatic commissioned by the Vatican to destroy the bloodthirsty Pizarro. Additional cast members include Julián Gil, Laura Zerra, Freddy Viquez, Juan David Ferrer, Alvaro Ruiz, Marcos Miranda, Leonard Krys and Camila Banus.
Megafilms, a wholly-owned subsidiary of SBS, was created in 2008 to produce Spanish-language full-length features, miniseries, telenovelas, documentaries and filmed entertainment for domestic and international distribution.
Spanish Broadcasting System, Inc. is one of the largest publicly traded Hispanic-controlled media and entertainment companies in the United States. SBS owns and operates 20 radio stations located in Hispanic markets such as New York, Los Angeles, Miami, Chicago, San Francisco and Puerto Rico. The Company also owns and operates Mega TV in Miami.
---
Listen to Cesar Melgoza discuss
"Changing Latino Landscape" audio recording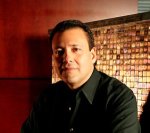 Presenter Cesar Melgoza, managing director, Latin Force Group
Find out about
• How demographic, social, political and economic factors affect Latinos
• Number of Hispanics in U.S.
• Hispanics as a percent of the mainstream population
• Number of Puerto Ricans in Puerto Rico
• Hispanics, including Puerto Rico, as a percent of U.S. mainstream
• Number of Asians and African Americans
• Estimated size of Hispanic market by 2012
• Percentage growth of new Hispanics per year
• Number of counties where Latinos are majority
• Areas of significant Latino growth
• Area of U.S. with a 950 percent Latino growth
• Role of acculturation
• Hispanicity segmentation
Click here for information on the Changing Latino Landscape
---