Posted by Elena del Valle on June 5, 2008
LegalMatch website – click on image to enlarge
Photos: LegalMatch
LegalMatch has begun translating a few of the 4,000 pages on its legal matching website into Spanish with the goal of targeting Spanish speaking Latinos searching for legal advice, especially for immigration issues. So far the company has translated its homepage, intake processes for each category of law and some pages of its law library. Plans are in place to translate the remaining pages in the coming months.
"Finding the right lawyer in the United States is difficult enough if you speak English and know something about the law," said Anna Ostrovsky, general counsel and co-founder of LegalMatch. "If you are not familiar with the United States legal system, and don't speak English, it's even harder. We created LegalMatch to empower consumers seeking the right attorney for their legal needs. Making LegalMatch available in Spanish was a logical next move for us."
Five percent of the thousands of attorney members responded to a recent survey about their interest in Spanish language cases. Seventy-five percent of those who responded said they would be interested in receiving Spanish language cases; 44 percent said they spoke Spanish; and an 43 percent said they had Spanish-speaking staff members.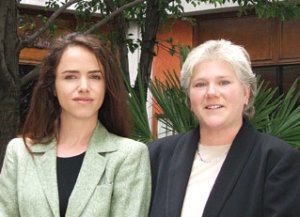 Anna Ostrovsky, general counsel and co-founder, and Laurie Ziffrin, CEO, LegalMatch
"We are very excited about the launch of our service in Spanish," said Laurie Ziffrin, chief executive officer, LegalMatch. "Spanish is the primary language for about 15 percent of all U.S. residents. LegalMatch is proud to make its lawyer finding service available to this historically underserved group."
---
Make your ads resonate with Hispanics
Listen to C&R's Research Director Liria Barbosa in
"Hispanics' Perspective on Advertising" audio recording

Liria Barbosa gives a presentation and participates in an extended Q&A discussion about
• Type of ads Latinos prefer
• Latino top media choices
• Percent of Latinos who tried products because of ads
• Percent of Latinos who purchased products because of ads
• What makes an ad "Hispanic"
• If ad language is important for bicultural Latinos
• What to keep in mind when targeting bicultural Latinos with ads
Click here for information on Hispanic Perspectives on Advertising
---
"Our Spanish site launch is our first major outreach aimed specifically at the Hispanic community. Before the launch, we likely had many Hispanics using the site in English, but we do not track ethnicity as part of our intake," said a company representative. "So, we had no way of knowing the race or ethnicity of any of our clients. Once a few months pass after the launch, we will be better able to answer this question, as we will know what percent of clients choose to use the Spanish intake as opposed to English."
LegalMatch, based in San Francisco, California with offices in Los Angeles, and Austin, Texas, was established in 1999 as a website targeting small business owners and individuals seeking legal counsel. According to the company website, it operated in the 50 states. The company is owned by dozens of shareholders and has 80 employees.