Posted by Elena del Valle on June 2, 2008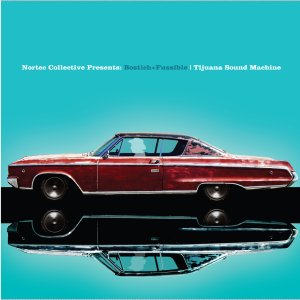 Nortec Collective Presents Bostich + Fussible Tijuana Sound Machine album cover
Photo, song: Nacional Records
Tijuana's electronica band Nortec Collective released a new album, Nortec Collective Presents Bostich + Fussible Tijuana Sound Machine (Nacional Records), in early May 2008. According to promotional materials, these musicians created and perform Nortec, a style of music they invented, as a fusion of Norteño (Spanish for from the North) and techno; to document the collision between the style and culture of electronica and traditional Mexican music. Scroll down to listen to the first single off the new album the title track, Tijuana Sound Machine.
"With Tijuana Sessions, Vol. 3, we focused on fusing vocoders, synthesizers and drum machines with the Norteño flavor," said Pepe Mogt (Fussible). "This time around, we really relied more on the acoustic sound. We tried to achieve a better balance between the acoustics and the electronics. While some tracks on Tijuana Sound Machine aren't even a month old yet, others have been around for a couple of years. We actually wrote many of these songs while on the road promoting Tijuana Sessions ."
---
Make your ads resonate with Hispanics
Listen to C&R's Research Director Liria Barbosa in
"Hispanics' Perspective on Advertising" audio recording

Liria Barbosa gives a presentation and participates in an extended Q&A discussion about
• Type of ads Latinos prefer
• Latino top media choices
• Percent of Latinos who tried products because of ads
• Percent of Latinos who purchased products because of ads
• What makes an ad "Hispanic"
• If ad language is important for bicultural Latinos
• What to keep in mind when targeting bicultural Latinos with ads
Click here for information on Hispanic Perspectives on Advertising
---
Following the launch of Tijuana Sessions, Vol. 3, Nortec Collective toured internationally, performing in Latin America, United States, Europe, Japan and Australia. They presented at Vive Latino (Latin America's Coachella), Rokslide Festival (Denmark), Sonar Festival (Barcelona), Smithsonian Institute and Kennedy Center (Washington, DC) and Bellas Artes Museum (Mexico City). An extensive U.S. tour featuring Bostich and Fussible is planned to coincide with the new release.
"In every place we have toured to, whether it is Australia, Japan or the U.S., crowds respond differently," said Fussible. "Even in Mexico, the response changes from town to town. But when it comes down to it, they are coming to our shows for the music, no matter whether they found it through a friend or online. So they are super enthusiastic either way. The real fun challenge comes when we play at festivals with audiences that are hearing our music for the first time."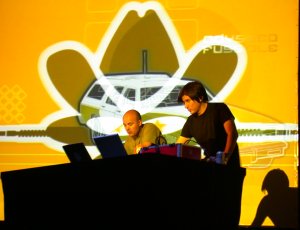 Bostich and Fussible
In 2005, Nortec Collective received two Grammy nominations for Tijuana Sessions, Vol. 3, for Best Alternative Music Album and Best Recording Package. The group's music has appeared in commercials for Volvo, Dell, Fidelity Mutual, Edwin Jeans and Nissan.
Tracks from Tijuana Sessions, Vol. 3 can also be heard in HBO's "Big Love," NBC's "Friday Night Lights" and the movies "Fast Food Nation" and "Babel" as well as the video games, FIFA Soccer and FIFA Street 2. An interactive coffee table book, Paso del Nortec- This Is Tijuana dedicated to the Nortec phenomena, was published in the United States, Mexico and Europe.
Five artists, Fussible, Bostich (Ramón Amezcua), Panóptica (Roberto Mendoza), Clorofila (Jorge Verdín) and Hiperboreal (PG Beas) make up Nortec Collective. Bostich and Fussible's are touted as the masterminds of the band's previous tracks Tengo La Voz, Tijuana Bass, and Tijuana Makes Me Happy off the double Grammy-nominated 2005 album Tijuana Sessions, Vol. 3.
Click on the play button to listen to Tijuana Sound Machine from Nortec Collective Presents Bostich + Fussible Tijuana Sound Machine album.