Posted by Elena del Valle on May 23, 2008
The Tamale List book cover
Photos: Vanilla Heart Publishing
With the help of a small publishing company to walk him through the publishing process Texas native Brian Naranjo will share with readers his fiction novels. His first book describes the experience of a Latino family in a residential neighborhood in Middle America. 
Vanilla Heart Publishing, a small, independent press based in Everett, Washington, will publish two of Naranjo's novels, The Tamale List, released April 2008, and Childish Things, due for re-release May 2008. The novels will be available in bookstores and online.
"Brian's books will be available through all the major book distributors worldwide and widely available online," said Kimberlee Williams, managing editor, Vanilla Heart. "And we're going to get Brian out there to meet his readers, through book readings, events, and signings. Brian has a unique, straight-forward approach to his writing. His style draws you into the story from Page One and you're soon in the thick of the plot. I fell in love with his finely crafted characters in both books. We are excited about having them both in our title lineup."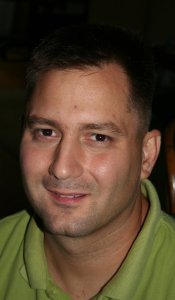 Author Brian Naranjo
The Tamale List relates the fictional story of a small Middle America white community faced with the arrival of a Hispanic family to the neighborhood. Eventually everyone realizes the new family is not so different from their new neighbors, according to Naranjo.
"Childish Things hits much closer to home because it is based on my life growing up, and focuses on a young man out of high school, who's coming to terms with a decision he made to join the Navy," said Naranjo. "The book starts on this character's last night before boot camp. He gets together with his favorite cousin, and the two reflect on their childhood. There are a lot of crazy, goofy anecdotes, but the central theme is about living life to its fullest, and never giving up."
Naranjo joined the U.S. Navy in 1990 when he was 18. He served on active duty for nearly 10 years before moving with his family to work in public affairs in the U.S. Army in Fort Riley, Kansas. The title of The Tamale List came from the list of people he shared his homemade tamales with when he was living in Japan. Vanilla Heart Publishing is a small, independent press based in Everett, Washington.
---
Click here to buy The Tamale List
---