Posted by Elena del Valle on May 20, 2008
Allan Villafaña and Maria Elvira Salazar of Mega Reporte
Photos: Spanish Broadcasting System 
Spanish Broadcasting System recently launched a weekly 60-minute news and entertainment summary program, Mega Reporte, described as an in-depth journalistic program created to examine the issues and topics that directly affect the Hispanic community in the United States and abroad. It airs Sundays at 10 pm ET (7 pm PST) on Mega TV Channel 22, DirecTV Más Channel 405, and at 11 pm in Puerto Rico on DirecTV Channel 169.
The program will have 90 percent original content. It will be hosted mostly by four journalists: Frank Cairo, Carlos Alberto Montaner, Maria Elvira Salazar and Allan Villafaña. In addition to general news, Mega Reporte plans to address health and politics in future programs. Manny Alvarez, M.D., the station's Spanish language medical correspondent on Mega News, will address health issues. He is known as Dr. Manny.
---
Make your ads resonate with Hispanics
Listen to C&R's Research Director Liria Barbosa in
"Hispanics' Perspective on Advertising" audio recording

Liria Barbosa gives a presentation and participates in an extended Q&A discussion about
• Type of ads Latinos prefer
• Latino top media choices
• Percent of Latinos who tried products because of ads
• Percent of Latinos who purchased products because of ads
• What makes an ad "Hispanic"
• If ad language is important for bicultural Latinos
• What to keep in mind when targeting bicultural Latinos with ads
Click here for information on Hispanic Perspectives on Advertising
---
Cairo, host of A Solas Con Frank Cairo, is a television producer with 20 years of experience in the entertainment industry. He produces Mega TV shows like Paparazzi TV, where he's also the main host, and crime magazine Xpediente.
Montaner, host of Pronosticos, was born in Havana, Cuba in 1943 and has resided in Madrid, Spain since 1970. He has published more than twenty books. Several of his books have been translated into English, Portuguese, Russian, and Italian.
Salazar is host of Maria Elvira Live. For the past 22 years Salazar, who was raised between Puerto Rico and Miami, has worked on air at national networks and news organizations; hosted her own debate show; and worked as a news anchor and war correspondent.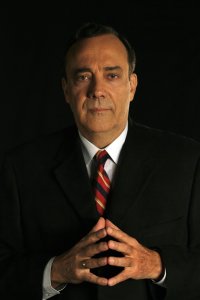 Carlos Alberto Montaner and Frank Cairo of Mega Reporte
Born in Ponce, Puerto Rico, Villafaña, host of Xpediente, has covered natural disasters and world events including the 2000 and 2004 Olympics games as well as the Middle East crisis. He is a graduate of Ohio State University in Columbus, Ohio. 
Alvarez is chairman of the Department of Obstetrics and Gynecology and Reproductive Science at Hackensack University Medical Center in New Jersey. He is also adjunct professor of Obstetrics and Gynecology at New York University.
Spanish Broadcasting System, Inc. is one of the largest publicly traded Hispanic-controlled media and entertainment companies in the United States. SBS owns and operates 20 radio stations located in Hispanic markets such as New York, Los Angeles, Miami, Chicago, San Francisco and Puerto Rico. The Company also owns and operates Mega TV in Miami.