Posted by Elena del Valle on May 19, 2008
Stacey L. Connaughton, Ph.D. and Federico Subervi, Ph.D.
Photos: Stacey L. Connaughton, Ph.D., Federico Subervi, Ph.D.
A podcast featuring an interview with Federico Subervi, Ph.D., professor, Texas State University-San Marcos and Stacey L. Connaughton, Ph.D., faculty member, Department of Communication at Purdue University is available in the Podcast Section of Hispanic Marketing & Public Relations, HispanicMPR.com. During the podcast, they discuss mass media and Latino politics based on the recently published book by the same title with Elena del Valle, host of the HispanicMPR.com podcast. 
Federico is director of the Center for the Study of Latino Media & Markets at the School of Journalism and Mass Communication, Texas State University-San Marcos.  Since the early 1980s, he has been conducting research, publishing and teaching on a broad range of issues related to the mass media and ethnic minorities, especially Latinos in the United States. He is the editor and an author of the book The Mass Media and Latino Politic Studies of U.S. Media Content, Campaign Strategies and Survey Research: 1984-2004.
Federico is the principal investigator of two research grants (one from the Ford Foundation, another from the Social Science Research Council) focused on analyzing the diversity of Latino-oriented media in central Texas. He is also the principal investigator of a McCormick-Tribune Foundation grant to assess the practices and policies of Texas and Illinois for communicating with non-English-speaking populations during emergency situations.
---
Click here to buy The Mass Media and Latino Politics 
---
Stacey teaches graduate and undergraduate courses in organizational communication theory and leadership at Purdue. Her research interests include identification and leadership in geographically distributed contexts, particularly as these issues relate to virtual teams and organizations and political parties. Her book, Inviting Latino Voters: Party Messages and Latino Party Identification, was published in 2005 by Routledge and she is a contributing author of the book The Mass Media and Latino Politics.
Stacey is a Senior Consortium research fellow at the U.S. Army Research Institute where she serves as the Consortium's thought leader on virtual leadership and teams. She is a member of the Advisory Board of the Leadership Institute at ICF International, and has served as an academic representative to the Conference Board of New York's Knowledge Management and Learning Division.
To listen to the interview, scroll down until you see "Podcast" on the right side, then select "HMPR Federico Subervi, Ph.D. Stacey Connaughton, Ph.D." Click on the play button below or download the MP3 file to your iPod or MP3 player to listen on the go, in your car or at home. To download it, click on the arrow of the recording you wish to copy and save it to disk. The podcast will remain listed in the May 2008 section of the podcast archive.
---
"Latino Media and Hispanic Media Training" audio recording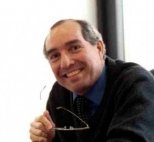 Presenters Federico Subervi, Ph.D. and Elena del Valle, MBA
Find out
• About the hundreds of Latino media
• Who are the major Hispanic media
• Type of media outlets they represent
• Languages in which they are produced
• Programming and content they offer
• Hispanic media geographic reach
• Hispanic media challenges
Click here for information on Latino Media and Hispanic Media Training
---