Posted by Elena del Valle on May 15, 2008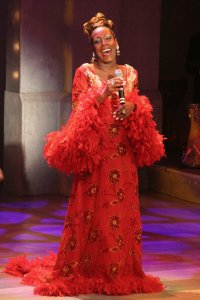 Scene from Celia: The Life & Music of Celia Cruz
Photos: Adrienne Arsht Center
The international tour of the New York musical about the life of famous Cuban singer Celia Cruz will begin June 18, 2008. Celia: The Life & Music of Celia Cruz will kick off as part of the Adrienne Arsht Center for the Performing Arts of Miami-Dade County 2008 summer season. Performances will be in English or Spanish. Tickets cost $50 and $75 for VIP seating. After Miami, the show is scheduled to travel to Spain and Puerto Rico.
Scene from Celia: The Life & Music of Celia Cruz
According to promotional materials, the musical takes the audience on a 60-year journey through the life of salsa singer Celia Cruz from her humble youth on the island to her later years of international success. The story is told from the perspective of Celia's husband, Pedro Knight. Sixteen singers, dancers and musicians will participate in the show which will be presented by the Adrienne Arsht Center and PerilloMusic by arrangement with Cardenas Marketing Network, Inc.
The Adrienne Arsht Center for Performing Arts, designed by Cesar Pelli, is Miami-Dade County's largest public private-sector partnership. It includes a 2,400-seat opera building, a 2,200-seat concert hall, a 200-seat theater, an education center, a restored Art Deco Tower, and plaza for the arts.
---
Make your ads resonate with Hispanics
Listen to C&R's Research Director Liria Barbosa in
"Hispanics' Perspective on Advertising" audio recording

Liria Barbosa gives a presentation and participates in an extended Q&A discussion about
• Type of ads Latinos prefer
• Latino top media choices
• Percent of Latinos who tried products because of ads
• Percent of Latinos who purchased products because of ads
• What makes an ad "Hispanic"
• If ad language is important for bicultural Latinos
• What to keep in mind when targeting bicultural Latinos with ads
Click here for information on Hispanic Perspectives on Advertising
---