Posted by Elena del Valle on May 14, 2008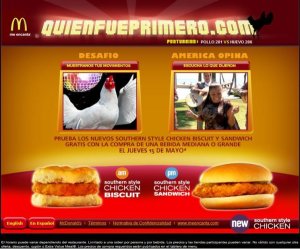 McDonald's new Spanish language website – click on image to enlarge
Photo: McDonald's
As part of its promotional efforts to introduce a new chicken product, McDonald's recently launched two websites, WhatCameFirst.com and QuienFuePrimero.com, operated by a third party. The Southern Style Chicken Biscuit and Sandwich was introduced nationwide May 6, 2008. The sandwich, available as a breakfast item and during the day, features lightly breaded all white chicken and is served with two pickles on a biscuit (in the morning) or a bun. As for the debate, the day we visited the website the egg was winning 4,989 to 4,789.
The primary audience for these efforts are multicultural adults between the ages of 18 and 49. The new pages will be promoted through media relations, word of mouth, street team initiatives across the country, and special events for May 14, National Dance Like a Chicken Day. The Game Agency developed the Spanish-language pages.
The idea is for consumers to log on to participate in an online exchange about the age-old chicken versus egg debate through a customized Dance-Off. Website visitors can upload a photo to a character of their choice to create a customized animated figure to pit the chicken and the egg against each other; share dance sequences, challenge friends and family to participate with equally customized animated characters; and view humorous "man-on-the-street" video interviews from people across the country who share their opinions on the eternal question of "What came first, the chicken or the egg?"
McDonald's USA, LLC, is a fast food provider in the United States. More than 80 percent of McDonald's 13,700 U.S. restaurants are independently owned and operated by local franchisees. One third of McDonald's employees in the United States are Latino and 11 percent of the company's board members are Hispanic.
---
"Best in Class Hispanic Strategies" audio recording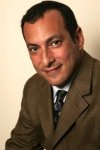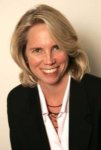 Presenters Carlos Santiago and Derene Allen
Find out what makes 25 percent of the top 500 Hispanic market advertisers out perform the remaining companies

Discover what questions to ask, steps to take to be a Best in Class company
Click here for more about "Best in Class Hispanic Strategies" audio recording
---