Posted by Elena del Valle on May 12, 2008
Backdrop album cover
Photos, video, song: SGM Records
Oakland, California resident David Privat-Gilman, known by his artistic name David P-G, has taken the first step in the professional music business at a young age. SGM Records signed him up at 17 and now his first electronic-techno album, Backdrop, is available for the whole word to purchase.  An American-Peruvian, David P-G composed, produced and promoted his first album while he was a senior in high school. Scroll down to watch Glenbrook music video and listen to Glenbrook from the Backdrop album.
David P-G producer and composer
"I very much enjoyed it. I spent hours each day working on songs because I got hooked on it," said David P-G, who was influenced by varied music genres and incorporates different styles in his music, from hip-hip to techno.
David P-G  
He composed the music, arranged the songs, produced and designed his album cover with his drawings and photographs. His first single Glenbrook and 12 other tracks are on sale at iTunes.com. David P-G plans to promote his music in the San Francisco Bay area and in his hometown.
Many of his songs were made in his early teens and he continues to pursue music as he enters college. SGM Records, a record label and production company, conducts digital video production specializing in music videos, TV commercials and public service announcements.
---
Reach Hispanics online today with
"Marketing to Hispanics Online" audio recording
Identifying and characterizing the booming Hispanic online market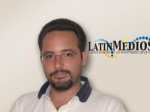 Joel Bary, Alex Carvallo and Matias Perel
Find out about
• The 16 million Latino online users
• Latino online users by gender
• What they do online
• Their language preferences
• How to reach Hispanic urban youth online
• What affects their online behavior
• What influences their purchases
Click here for information about "Marketing to Hispanics Online"
---
Click on the play button to listen to Glenbrook from the Backdrop album