Posted by Elena del Valle on May 6, 2008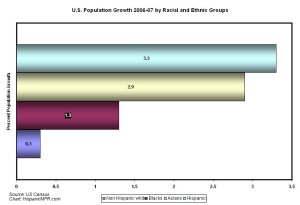 America's population growth by racial and ethnic groups – click on image to enlarge
According to the latest Census Bureau updates, more than one third of Americans is from racial and ethnic minorities. Hispanics continue to grow faster than any other group, exceeding 15 percent of the overall population for the first time last year. At the same time, children of racial and ethnic minorities continue to exhibit significant growth. Hawaii was the only state where the share of non Hispanic white children rose.
High fertility and immigration are prompting the growth of Asian American and Hispanic populations. This is most evident in youth markets.  In two of the fastest growing states, Florida and Nevada, the majority of children are from ethnic minority groups. Among children five and younger, ethnic and racial minority children are already the majority across the country.
---
Target Latinos effectively by anticipating changes in the market with
"Hispanic Projections with 2007-08 update" audio recording

Presenter Roger Selbert, Ph.D.
Find out
About Latino buying power growth in the future
How Latino market growth compares with other markets in the U.S.
What drives the rise of Latino economic clout
Who should target the Latino market
What is the size of the Hispanic affluent market
If the luxury Latino market is growing
Stay ahead of your competion with "Hispanic Projections"
---
An example of the growth patterns sweeping the country is Florida. The Sunshine State had been the top state in non Hispanic white population increases in the past 30 years. In 2005, its non Hispanic white population mushroomed by 123,000; in 2006 the same segment grew by 67,000. In 2007, there were only 4,000 new non Hispanic whites in the state.
At the national level, between 2006 and 2007 the Hispanic population grew 3.3 percent; while the Asian population grew by 2.9 percent; the black population grew 1.3 percent; and growth among non Hispanic whites was only 0.3 percent. At the same time, minorities concentrated in certain parts of the country. Almost one third of America's minorities live in California and Texas. Texas gained the greatest number of Hispanic residents between 2006 and 2007.
---
Listen to Cesar Melgoza discuss 
"Changing Latino Landscape" audio recording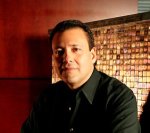 Presenter Cesar Melgoza, managing director, Latin Force Group
Find out about
• How demographic, social, political and economic factors affect Latinos
• Number of Hispanics in U.S.
• Hispanics as a percent of the mainstream population
• Number of Puerto Ricans in Puerto Rico
• Hispanics, including Puerto Rico, as a percent of U.S. mainstream
• Number of Asians and African Americans
• Estimated size of Hispanic market by 2012
• Percentage growth of new Hispanics per year
• Number of counties where Latinos are majority
• Areas of significant Latino growth
• Area of U.S. with a 950 percent Latino growth
• Role of acculturation
• Hispanicity segmentation
Click here for information on the Changing Latino Landscape
---