Posted by Elena del Valle on May 5, 2008
Katie Delahaye Paine, founder, KDPaine & Partners LLC
Photo: KDPaine & Partners LLC
A podcast interview with Katie Delahaye Paine, founder of KDPaine & Partners LLC, is available in the Podcast Section of Hispanic Marketing & Public Relations, HispanicMPR.com. During the podcast, Katie discusses moving beyond traditional media measurement and measuring conversations and social media and addressing Hispanic market issues with Elena del Valle, host of the HispanicMPR.com podcast.
Katie is the founder of KDPaine & Partners LLC and publisher of the first blog and the first newsletters for marketing and communications professionals dedicated entirely to measurement and accountability. Her book, Measuring Public Relationships, the Data-Driven Communicator's Guide to Success , was published in December of 2007. She writes KDPaine's Measurement Blog and publishes The Measurement Standard. Prior to launching KDPaine & Partners in 2002, Katie was the founder and president of The Delahaye Group, which she sold to Medialink in 1999.
She works with, among others, Raytheon, Allstate, Facebook, and Southwest Airlines. Most recently, her endeavors have been focused on social media measurement as well as providing cost effective measurement programs for non-profits, small businesses and government agencies.
---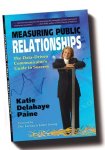 Click here to buy Measuring Public Relationships
---
Katie was named the 2007 New Hampshire Woman Business Owner of the Year by the Small Business Administration. In 2006, she was named the Entrepreneurial Venture Creator Person of the Year by the University of New Hampshire and won the Business Excellence Award for Excellence in Media & Marketing from New Hampshire Business Review. 
A Cum Laude graduate of Connecticut College's class of 1974, Katie majored in history and Asian studies. She received an Honorary Doctorate of Laws from New Hampshire College in May 1996. She is an Athena award winner and a board member of the New Hampshire Political Library. 
To listen to the interview, scroll down until you see "Podcast" on the right hand side, then select "HMPR Katie Delahaye Paine," click on the play button below or download the MP3 file to your iPod or MP3 player to listen on the go, in your car or at home. To download it, click on the arrow of the recording you wish to copy and save to disk. The podcast will remain listed in the May 2008 section of the podcast archive.
---
"Moving Beyond Traditional Media Measurement: measuring conversations and social media" audio recording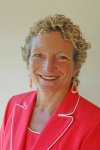 Presenter Katie Delahaye Paine, founder,  KDPaine & Partners
Find out about
Issues affecting online public relationships today
Testing relationships as part of a survey
Measuring ethnic group relationships 
Measuring foreign language communications in a similar ways to English
Biggest challenges measuring conversations and social media
Measuring online relationships with little or no money
Click here for information on "Moving Beyond Traditional Media Measurement"
---