Posted by Elena del Valle on April 24, 2008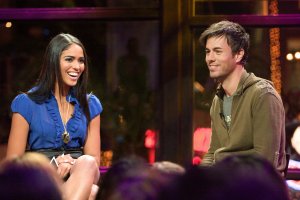 Yasmin Deliz and Enrique Iglesias on Vivo
Photo: Robson Muzel
In April, mun2 hopes to capture the hearts of its viewers 12 to 34 years of age with Enrique Iglesias: Bigger on mun2, a series of appearances by singer Enrique Iglesias. The pop star will be featured prominently including holamun2.com originals, hosted shows, interactive features, original promos, music video blocks, and exclusive interviews. Some of the programs, a promo, digital vignette and teasers, will be available in part or whole on holamun2.com, the network's website. Appearances will be in Spanish, English and spanglish.
"Mun2 is bringing a true pioneer of bilingual pop to fans with our exclusive Bigger on mun2 treatment of original, irreverent, and candid content on-air and online," said Flavio Morales, mun2 vice president of Programming. "Kicking off the new season of Vivo with Enrique Iglesias, one of the greatest international pop stars of all time, is a huge treat for our audience."
Enrique Iglesias: Bigger on mun2 includes a appearances on a mun2 on-air promo, Holamun2.com, 2RSLVJ, The Shuffle, Pepsi Musica, Enrique Iglesias "95/08″ video block, and Vivo, a three year old program. According to a mun2's representative, the network executives expect many women viewers and high audience numbers.
Launched in 2001, mun2 offers bilingual programming for young U.S. Latinos. The multi-platform youth entertainment network is available nationwide to 17 million viewers on cable and television. The network is part of Telemundo Cable Networks, a division of NBC Universal TV Networks Distribution.
---
Find out what multicultural kids across America think
Listen to Michele Valdovinos, SVP, Phoenix Multicultural in
"Marketing to Multicultural Kids" audio recording

Michele Valdovinos gives a presentation and participates in an extended Q&A discussion about multicultural children based on a Phoenix Multicultural and Nickelodeon study of 1,300 multicultural children in 16 United States markets.
Find out about
• The Phoenix Multicultural Kids Study
• Relationship between children and their context
• Issues relating to family, technology and media, diversity, buying power, relationships in household, self perception, values, acculturation, cultural heritage, frequency of media activity, income and spending, brand preferences, the American Dream
• How many billions of dollars buying power multicultural kids children have
• Children's spending attitudes, habits by ethnicity
• How much money a year Hispanic kids have available to spend
• Types of products Hispanic kids buy
Click here for information on "Marketing to Multicultural Kids"
---