Posted by Elena del Valle on April 16, 2008
4th Annual Voz Latina Hispanic Marketing Conference
Hundreds of Latin music industry professionals gathered at the Seminole Hard Rock Hotel & Casino in Hollywood, Florida for the 19th Annual Billboard LatinMusic Conference & Awards April 7-9, 2008 and the 4th Annual Voz Latina Hispanic Marketing Conference April 10. The four-day event concluded with the Billboard Latin Music Awards and concurrent Latin Billboard Latin Music Awards Show, produced and broadcast by Telemundo.com Thursday night at the Hard Rock Live in the Seminole Hard Rock complex.
The conference, organized with the support of 35 sponsors, began Monday, April 7 at noon with a half day dedicated to radio featuring panelists from Arbitron, SBS, Clear Channel Communications, Univision Communications, La Ley, Univision Radio, WCMQ, WYMY, and KQSP.
Tuesday, panelists from Alliance Entertainment, MusicNet, Universal Music Distribution, Music Amazon, Select-O-Hists, Univision Music Group, Sei Track, DBC Entertainment, Sony BMG/Day 1 Entertainment, Roptus, EMI Televisa Music, Batanga, MySpace Latin America, SanDisk Corporation, Universal Music Group Distribution, Terra Networks USA, MTV3s, and mun2 discussed distribution, digital forums, new business, and Latin youth issues. There was also an artist panel about song writing.
---
Reach Hispanics online today with
"Marketing to Hispanics Online" audio recording
Identifying and characterizing the booming Hispanic online market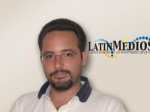 Joel Bary, Alex Carvallo and Matias Perel
Find out about
• The 16 million Latino online users
• Latino online users by gender
• What they do online
• Their language preferences
• How to reach Hispanic urban youth online
• What affects their online behavior
• What influences their purchases
Click here for information about "Marketing to Hispanics Online"
---
"You have to start from square one now," said Angela Sanchez, senior director of Marketing/Digital, Universal Music Group Distribution and one of the panelists of The Digital Arena, From Distribution to New Opportunities panel Tuesday morning.
"We need to appeal to the advertising world," said her co-panelist Angel Sepulveda, executive director of Programming, Terra Networks USA.
"It's great because everyone seems to want to work with you and you're taking on a new role," said Judy Canton-Navas, panel moderator and managing editor of the newly launched Billboardenespanol.com.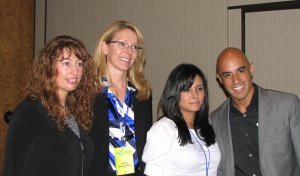 Panelists Kymber Umana, Christine Webster Moore, Maribel Viteri and Gonzalo Perez discussed emerging media platforms
Wednesday, there was a presentation about the Latin digital market by a representative of Music Ally followed by artist discussions about urban music and reggaeton. These were followed by a Q & A session with Enrique Iglesias. Thursday's program was marketing oriented with a mix of speakers from Creative Artists Agency, HipCricket, Conill and Target and panelists from LatinWorks, Batanga, Motivo Insights, Sprint, ESPN Deportes, Best Buy, Telemundo Network, People en Español, and Verizon.
Billboard is part of the Billboard Information Group, which also owns Billboard.biz, Billboard.com, Billboard Chart Alert, Billboard Information Network (BIN), Billboard Directories, Billboard Books, Billboard Licensing & Events and Billboard Radio Monitor. Billboard's sister companies are Nielsen SoundScan and Nielsen Broadcast Data Systems.
---
Find out what multicultural kids across America think
Listen to Michele Valdovinos, SVP, Phoenix Multicultural in
"Marketing to Multicultural Kids" audio recording

Michele Valdovinos gives a presentation and participates in an extended Q&A discussion about multicultural children based on a Phoenix Multicultural and Nickelodeon study of 1,300 multicultural children in 16 United States markets.
Find out about
• The Phoenix Multicultural Kids Study
• Relationship between children and their context
• Issues relating to family, technology and media, diversity, buying power, relationships in household, self perception, values, acculturation, cultural heritage, frequency of media activity, income and spending, brand preferences, the American Dream
• How many billions of dollars buying power multicultural kids children have
• Children's spending attitudes, habits by ethnicity
• How much money a year Hispanic kids have available to spend
• Types of products Hispanic kids buy
Click here for information on "Marketing to Multicultural Kids"
---