Posted by Elena del Valle on April 10, 2008
Cañita Hibisco Chucho t-shirt 
Photo: Chucho 
Beginning in March, MexGrocer online customers can purchase Latino themed 100 percent cotton t-shirts for men and boys from the Chucho brand. They can choose from three vintage designed styles in medium and large sizes for $20.
The styles are Canel's Blanco Y Negro with Rafael Martinez, Cañita Hibisco and Roma. Canel's is a brand of Mexican chewing gum and Rafa Martinez is a NASCAR driver. Cañita Hibisco is an Aguas Frescas beverage brand; and Roma is a laundry soap brand in Mexico.
"We have never sold apparel on line and feel the Chucho brand complements our product assortment," said Hernandez, Jr. "We think the Chucho brand will do well; it is something unexpected yet curiously familiar."
---
Make your ads resonate with Hispanics
Listen to C&R's Research Director Liria Barbosa in
"Hispanics' Perspective on Advertising" audio recording

Liria Barbosa gives a presentation and participates in an extended Q&A discussion about
• Type of ads Latinos prefer
• Latino top media choices
• Percent of Latinos who tried products because of ads
• Percent of Latinos who purchased products because of ads
• What makes an ad "Hispanic"
• If ad language is important for bicultural Latinos
• What to keep in mind when targeting bicultural Latinos with ads
Click here for information on Hispanic Perspectives on Advertising
---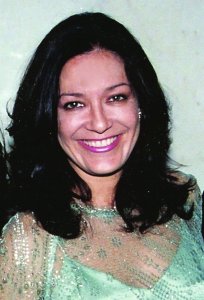 Molly Robbins Chucho creator
Molly Robbins, a Mexico City native, created Chucho with the slogan Esta marca es para ti (Spanish for this brand is for you). To launch her clothing lines, she secured exclusive rights to use trademarks and vintage art from some Latino companies.
"I am so thrilled to be partnering with MexGrocer.com," said Molly Robbins. "They get an enormous amount of traffic on their site and we are lucky to be part of it."
Chucho incorporates black and white and colorf graphics and logos from beverages, confections, cement companies and tire manufacturers. Robbins launched Palomita, a similar line for women and girls, in 2007.
Founded by Ignacio Hernandez Sr. and Ignacio (Nacho) Hernandez Jr. seven years ago, San Diego based MexGrocer.com is an online seller of Mexican products and food.
---
"Emotional Branding: How to capture the heart and mind of the Hispanic consumer" audio recording


"Emotional Branding" was recorded January 2007 during the Strategic Research Institute 13th Annual Blockbuster Marketing to U.S. Hispanic and Latin America conference in Miami, Florida. Receive a free downloadable copy by completing our Visitor Survey.
Click here for your free copy of Emotional Branding
---