Posted by Elena del Valle on April 7, 2008
Oye album cover
Photos, video: Nacional Records 
Colombian musicians Aterciopelados seem to be at the top of their game. They are fresh on the heels of a Premio Lo Nuestro award in the Best Rock Album category for Oye distributed by Nacional Records. Oye climbed to the top on iTunes' top Latin albums chart by the end of its first day of release and remained at the top of the chart for a week. Aterciopelados also hit the summit of eMusic's Top Albums chart. Scroll down to listen to the song and watch the music video of Aterciopelados' Cancion Protesta.
Oye was Aterciopelados' first studio album in five years representing a return to a more organic, rock sound reminiscent of their earlier work. "Complemento," the album's first single, is an upbeat declaration of love from someone who has found her soul mate, the person that complements her.
The album also features Aterciopelados' trademark social and political commentary in songs like Oye Mujer which asks women "are you a human being, or the erotic fantasy of some guy?" and Paces, a call to action for peace. Oye's last single and video is Don Dinero (Mr. Money) about the power of money in the world. 
Andrea Echeverri and Hector Buitrago of Aterciopelados
"I'm trying to fight Don Dinero lest all the world turn cold and money-driven. You have to open up to communicating with others, remain true to yourself and those closest to you," said Andrea Echeverri, lead singer of Aterciopelados.
---
Reach Hispanics online today with
"Marketing to Hispanics Online" audio recording
Identifying and characterizing the booming Hispanic online market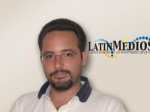 Joel Bary, Alex Carvallo and Matias Perel
Find out about
• The 16 million Latino online users
• Latino online users by gender
• What they do online
• Their language preferences
• How to reach Hispanic urban youth online
• What affects their online behavior
• What influences their purchases
Click here for information about "Marketing to Hispanics Online"
---
The album's previous single was Cancion Protesta (Protest Song) characterized by a social and political commentary against war and injustice. The video features the group using guitars fashioned out of former machine guns. The special guitars were given to Aterciopelados by the United Nations in support of their efforts to take guns off the streets of Colombia. Aterciopelados co-founders Echeverri (vocals, guitars) and Hector Buitrago (bass, arrangements, and producer) also released solo albums in the past year. Echeverri's received two Grammy nominations.
Click on the play button to listen to Aterciopelados' Cancion Protesta