Posted by Elena del Valle on April 3, 2008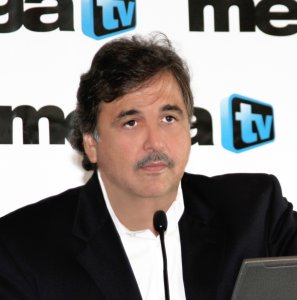 Raúl Alarcón, president and CEO of SBS
Photo:  Spanish Broadcasting System
Spanish Broadcasting System, Inc. recently launched a wholly-owned film subsidiary, Megafilms, to produce Spanish-language full-length features, miniseries, telenovelas, documentaries and filmed entertainment for domestic and international distribution, including theatrical release, broadcast syndication and DVD commercialization. A company spokesperson declined to share financial, content or production details.
Agustin Fernandez was named managing director of the new SBS division which is expected to announce its first original production in the second quarter of 2008. SBS executives believe the new company will benefit from the resources, infrastructure and promotion provided by the SBS multimedia platforms and their proprietary brands, including the SBS radio and Mega TV television networks, the SBS online properties as well as the SBS Media Center, a five-acre high definition production facility under construction in Miami.
"Our entry into filmed entertainment is a natural follow-up to our 2006 debut of MegaTV and our successful efforts in the production of original programming for our network", said Raúl Alarcón, president and chief executive officer of SBS. "Our foray into broadcast television alerted us to the staggering demand in the global marketplace for cutting-edge, high-quality filmed entertainment which, until now, has been dominated by a handful of foreign suppliers. And, of course, we intend our own Mega TV to be a primary beneficiary of the Megafilms production slate."
---
Hispanic Marketing and Public Relations Understanding and Targeting America's Largest Minority book

"A must resource for practitioners/professionals expecting to reach US Hispanics; also valuable for college programs in marketing, public relations and communications. Highly recommended."
Choice magazine
Click here for information on the Hispanic Marketing & Public Relations books
---
Fernandez, a producer, writer and director, specializes in modestly budgeted pictures. He is the founder and president of Babylegs Entertainment, a production company that offers full production support for several partners including direct-to-video films, television programming, commercials and music videos for traditional and new digital outlets.
Fernandez spearheaded El Vacilon The Movie which was released in 17 screens in the New York area and grossed $2.3 million. Fans have purchased more than 500,000 copies of the Lions Gate Films released DVD. His next feature, A Wonderful Christmas, Feliz Navidad, a Latino-themed Christmas film staring Raul De Molina, Giselle Blondet, Mariana Seoane and Jose Feliciano, was released in November 2007 by Lions Gate Films.
In the past five years, Babylegs has developed, produced, marketed and distributed 65 commercials, 28 music videos, and 10 feature films including, Ego with recording artist Eve, and Michael K. Williams, and El Cantante with Marc Anthony and Jennifer Lopez. Fernandez received two Emmy awards in 2007 and was nominated for an Emmy in 2006.
Spanish Broadcasting System, Inc. is one of the largest publicly traded Hispanic-controlled media and entertainment companies in the United States. SBS owns and operates Mega TV in Miami as well as 20 radio stations in New York, Los Angeles, Miami, Chicago, San Francisco and Puerto Rico.
---
Make your ads resonate with Hispanics
Listen to C&R's Research Director Liria Barbosa in
"Hispanics' Perspective on Advertising" audio recording

Liria Barbosa gives a presentation and participates in an extended Q&A discussion about
• Type of ads Latinos prefer
• Latino top media choices
• Percent of Latinos who tried products because of ads
• Percent of Latinos who purchased products because of ads
• What makes an ad "Hispanic"
• If ad language is important for bicultural Latinos
• What to keep in mind when targeting bicultural Latinos with ads
Click here for information on Hispanic Perspectives on Advertising
---