Posted by Elena del Valle on March 25, 2008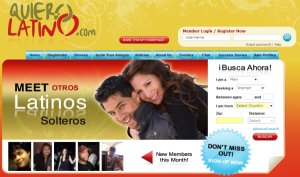 QuieroLatino homepage – click on image to enlarge
Photos: QuieroLatino, nocheLatina 
In December 2006, Ariel Oxman and Joe Spector, students at the University of Pennsylvania at the time, started working on a new business concept, an online dating site for Latinos in the U.S. They entered a business plan competition and incubator program. When it came time to graduate, they passed up potential Wall Street jobs to dedicate all their time to QuieroLatino, the San Francisco, California company they established in June 2007.
NocheLatina website – click on image to enlarge
Beginning in February, QuieroLatino and nocheLatina, another website targeting young Latinos, have developed a partnership agreement. NocheLatina, based in New York, offers an event directory, a lifestyle magazine, music, and video content in English online for Latinos. According to Spector, the two websites combined receive several hundred thousand unique monthly visitors. He declined to disclose the financial impact, price range and terms of the partnership agreement.
---
Reach Hispanics online today with
"Marketing to Hispanics Online" audio recording
Identifying and characterizing the booming Hispanic online market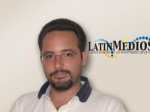 Joel Bary, Alex Carvallo and Matias Perel
Find out about
• The 16 million Latino online users
• Latino online users by gender
• What they do online
• Their language preferences
• How to reach Hispanic urban youth online
• What affects their online behavior
• What influences their purchases
Click here for information about "Marketing to Hispanics Online"
---
Joe Spector, co-founder, QuieroLatino
"QuieroLatino's users, comprised of single Latinos in the U.S., are involved with Latino culture and their local social scene," said Spector, co-founder of QuieroLatino. "By teaming up with nocheLatina, we're providing users with the most relevant entertainment options." 
Since the QuieroLatino launch in early February, 1,000 people have registered on QuieroLatino and have looked at over 80,000 pages. There are about as many men as women registered to date. As part of the cross promotional agreement, QuieroLatino is providing visitors to nocheLatina with dating content and access to its singles database. NocheLatina in turn promises QuieroLatino visitors local information on nightlife, concerts and other Hispanic lifestyle content in Los Angeles, Miami and New York. 
"NocheLatina is all about the socializing aspect of events and entertainment," said Alex Frias, founder and managing director of nocheLatina. "By working with QuieroLatino, we'll be able to help our users connect not only via events but online as well."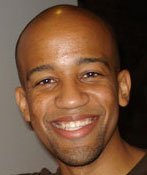 Alex Frias, founder and managing director, nocheLatina
Spector grew up in San Francisco. Prior to co-founding QuieroLatino, he worked as a banker at JPMorgan in New York City. He has a master's degree in Business Administration from the Wharton School at the University of Pennsylvania.
Oxman, whose family is from South America, grew up in the Maryland suburbs of Washington, D.C. and received a law degree from the University of Pennsylvania Law School. He was a Public Policy Fellow at the Congressional Hispanic Caucus Institute. He also started La Familia, a Latino peer mentoring program.
QuieroLatino, an English language website with some Spanish content, offers a free General Membership and a Premium Membership for a monthly fee of $24.99. General Members can create a profile, search for other members, rate profiles, and use the website's internal chat function. Premium Members can also message other users and upload videos to their profile.
NocheLatina provides an interactive portal for bi-cultural young Latinos. The nocheLatina website lists a presence in Boston, Chicago, Houston, Las Vegas, Los Angeles, Miami, New Jersey, New York, Orlando, Phoenix, San Antonio, and San Diego. NocheLatina is a division of Track Entertainment, an entertainment company that offers real life and digital programs.
---
Improve your outreach programs by understanding
how Latinos see themselves – listen to  
"Latino Identity and Situational Latinidad " audio recording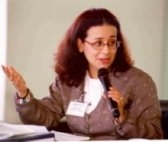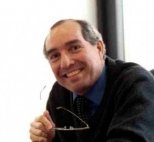 Presenters Diana Rios and Ph.D., Federico Subervi, Ph.D.
Find out
• Who is Latino
• Assimilation, acculturation and pluralism
• Hispanic culture dynamics affecting Latino
• Role of Latino identity
• Three factors that contribute to Latino identity
Click here for information on Latino Identity and Situational Latinidad
---