Posted by Elena del Valle on March 20, 2008
Maradona: The Hand of God DVD cover
Photo: Xenon Pictures/Lionsgate
Maradona: The Hand of God, a film about the life of Diego Armando Maradona, the famous soccer player from Argentina, was released in DVD in February 2008. Made with Maradona's cooperation, the film is described in promotional materials as "an honest portrayal" of the legendary player.
During the film, the producers recreate some of the controversial incidents that caused him to be "worshipped and reviled" by soccer fans around the world. The 110-minute film, released in North America by Xenon Pictures and Lionsgate, is in Spanish with English subtitles and retails for $19.98.
---
Target Latinos effectively by anticipating changes in the market with
"Hispanic Projections with 2007-08 update" audio recording

Presenter Roger Selbert, Ph.D.
Find out
About Latino buying power growth in the future
How Latino market growth compares with other markets in the U.S.
What drives the rise of Latino economic clout
Who should target the Latino market
What is the size of the Hispanic affluent market
If the luxury Latino market is growing
Stay ahead of your competion with "Hispanic Projections"
---
Maradona was raised in the impoverished outskirts of Buenos Aires and began playing soccer at a young age. While still a child, he achieved national celebrity playing with the youth "Cebollitas" team. Eventually, he became an international star through his talent, bigger-than-life personality and tremendous passion on and off the field. The film producers set out to showcase his rise from teenage celebrity to international idol, his drug abuse problems and frequent run-ins with the law.
As a child, he was often derided by the upper classes for his indigenous ancestry. He was so popular he inspired songs like Santa Maradona; and others like Maradona, You're Sh%t that cast him in a less than favorable light. It is said churches in his native Argentina offer a Maradona service and the city of Naples built a shrine in his honor.
Directed by Marco Risi, the film garnered three nominations in 2007 from the National Union of Italian Film Journalists for Best Actor, Best Musical Score, and Best Editor. Maradona: The Hand of God stars Marco Leonardi (Like Water for Chocolate, Once upon a Time in Mexico).
The film is named for Maradona's infamous Hand of God goal at the 1986 World Cup quarter-final match against England. The referee failed to notice that Maradona had used his hand to make the goal. When questioned afterward, Maradona replied: "a little with the head of Maradona and a little with the hand of God."
---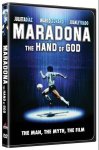 Click here to buy Maradona: The Hand of God
---