Posted by Elena del Valle on March 17, 2008
 Ruth Gaviria, executive director, Meredith Hispanic Ventures
Photo: Meredith Corporation
A podcast interview with Ruth Gaviria, executive director, Meredith Hispanic Ventures is available in the Podcast Section of Hispanic Marketing & Public Relations, HispanicMPR.com. During the podcast, Ruth discusses Meredith's Spanish language publications with Elena del Valle, host of the HispanicMPR.com podcast.
Ruth assumed her position in January 2004. In this role, she was integral to the creation and September 2005 launch of Siempre Mujer. Prior to joining Meredith, she was director of Marketing and Brand Development for People en Español, a Time Inc., publication.
---
Hispanic Marketing and Public Relations Understanding and Targeting America's Largest Minority book

"A must resource for practitioners/professionals expecting to reach US Hispanics; also valuable for college programs in marketing, public relations and communications. Highly recommended."
Choice magazine
Click here for information on the Hispanic Marketing & Public Relations books
---
She was also director of U.S. Hispanic Market at Colgate Palmolive from 1992 to 1999 and Brand Promotions Manager at Miller Brewing from 1987 to 1992. From 1999 to 2000, she was vice president, Global Marketing, for Fusion Networks, where she developed the company's marketing and web brand positioning in the U.S. and Latin American Hispanic markets. Ruth began her career at Procter and Gamble, where she worked in sales and marketing.
Ruth, named one of Advertising Age's Top 100 Marketers in 2000, received her undergraduate degree from Tulane University in New Orleans. She resides in Westport, Connecticut with her son.
To listen to the interview, scroll down until you see "Podcast" on the right hand side, then select "HMPR Ruth Gaviria," click on the play button below or download the MP3 file to your iPod or MP3 player to listen on the go, in your car or at home. To download it, click on the arrow of the recording you wish to copy and save to disk. The podcast will remain listed in the March 2007 section of the podcast archive.
---
A word in Spanish from one of our sponsors
---
"Segmentation by Level of Acculturation" audio recording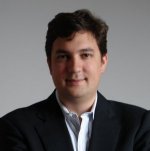 Presenter Miguel Gomez Winebrenner
Discusses
Assimilation versus acculturation
Factors that affect Latino acculturation
How to know if someone is acculturated
Number of years necessary for acculturation
Effects of immigration debate on acculturation
Three main ways of segmenting Latinos
Click here for details about "Segmentation by Level of Acculturation"
---