Posted by Elena del Valle on March 6, 2008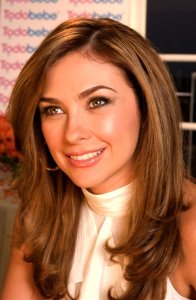 Aracely Arambula, co-host, ¡Viva la Familia! de Todobebé 
Photos: Todobebe
Univision and Todobebé Inc. will produce ¡Viva la Familia! de Todobebé (Hooray for Families! from Todobebé), an hour long new program for mothers and young families hosted by Aracely Arámbula and Karen Martínez, telenovela actresses, as well as Jeannette Kaplun, editor and founder of Todobebé. No launch date was released for the program.
"Univision is a family network," said Alina Falcón, executive vice president and operating manager of the Univision Network. "This new show will provide another strong connection with our viewers by offering a family program that not only provides the information that's so important to new mothers and young families, but does so in such an innovative and entertaining way. And it will also provide advertisers with a powerful new platform to reach such a highly engaged group of consumers."
---
Hispanic Marketing and Public Relations Understanding and Targeting America's Largest Minority book

"A must resource for practitioners/professionals expecting to reach US Hispanics; also valuable for college programs in marketing, public relations and communications. Highly recommended."
Choice magazine
Click here for information on the Hispanic Marketing & Public Relations books
---
According to promotional materials, the program, to be broadcast weekends, mixes humor, entertainment, "reality" segments, interactivity, and information about babies and childrearing. It also marks the return to television of actress and new mom Arámbula as host and executive producer.
"The news that ¡Viva la Familia! de Todobebé would be broadcast by Univision filled me with joy because I really feel at home here," said Arámbula. "It's so satisfying to see that our format was so enthusiastically embraced by both the network executives and sponsors, as well. I hope that the show becomes a favorite among viewers."
Producers promise ¡Viva la Familia! de Todobebé will included humor, emotion-filled segments about making dreams come true for deserving viewers through hidden cameras, advice and tips from experts.
Karen Martínez and Jeannette Kaplun, co-host, ¡Viva la Familia! de Todobebé 
"Our partnership with Univision opens a historic door for viewers and advertisers to be a part of the content that makes up the heart of Todobebé," said Gillian Sandler, chief executive officer of Todobebé. "We look for opportunities to change lives and bring miracles and humorous situations to TV that celebrate the adventures of parents drawing from the experiences of millions of mothers, fathers, grandparents, aunts and uncles, siblings, and everyone who loves children."
Born in Chihuahua, Mexico, Arámbula attended the Centro de Educación Artística de Televisa and following her graduation acted in several Mexican soaps. She is married to singer Luis Miguel; she also sings and has recorded albums in Spanish. In addition to her work in Spanish language soap operas, Martinez has starred in film and as a model. She is married to singer Juanes. Kaplun has experience in journalism, broadcast and online international media.
Todobebé Inc. reaches United States Spanish speaking Latino parents with books, television programs, radio, events and online. Todobebé focuses on families planning, expecting and raising babies through varied media platforms. Univision Communications Inc. is a United States Spanish-language media company. Its operations include Univision Network, TeleFutura Network, Galavisión, Univision Television Group, Univision Radio, Univision Music Group, and Univision Online.
---
Reach Latinos consumers with electronic publicity tools with
"Electronic Publicity and Broadcast Public Relations" audio recording

David Henry presenter
Broadcast publicity expert David Henry shares insights drawn from years of experience to help you target Latinos effectively during this presentation and interview.
Find out
How to reach Latinos with electronic publicity
How many TV stations offer news programming in Spanish in the U.S.
Which markets have the number one newscasts in Spanish
Which markets offer bilingual news TV programming
Much more
 Click here for information on  Electronic Publicity and Broadcast Public Relations
---