Posted by Elena del Valle on March 3, 2008
Señor Flavio's new album Supersaund 2012 cover
Photos, song: Nacional Records
Buenos Aires native Flavio Cianciarulo, known to his fans as Señor Flavio, will release his first solo album, the Supersaund 2012 album, March 4, 2008 in the United States. Cianciarulo is a bassist and songwriter and a founding member of Latin Rock band Los Fabulosos Cadillacs. His album will showcase garage rock, psychobilly and punk as well as the reggae and ska that characterize Senor Flavio and Los Fabulosos Cadillacs music.
Señor Flavio
Señor Flavio and his band, Los Fabulosos Cadillacs, are known for songs like "Matador," "V Centenario," "Mal Bicho" and "Vos Sabés."  The hit "Matador" was featured in the platinum-selling soundtrack to the film Grosse Point Blank.
---
"Segmentation by Level of Acculturation" audio recording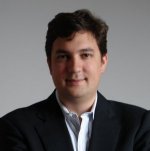 Presenter Miguel Gomez Winebrenner
Discusses
Assimilation versus acculturation
Factors that affect Latino acculturation
How to know if someone is acculturated
Number of years necessary for acculturation
Effects of immigration debate on acculturation
Three main ways of segmenting Latinos
Click here for details about "Segmentation by Level of Acculturation"
---
The Supersaund 2012 album songs are: "Malito," "Ministra," "Polaroid 66," "El Apagon," "Lo Mejor del Mundo," "La Herida," "Oportuna," "Lucha Libre Lovers," "Guamont," "De Story of de Loko Univers-love," "Tropicana 50," "Cristina" and "Retirada Murguera Portena." Argentina's Grammy-Winning Los Fabulosos Cadillacs are a platinum selling rock band.
Click on the play button to listen to "Malito" from the Supersaund 2012 album:
---
Find out what multicultural kids across America think
Listen to Michele Valdovinos, SVP, Phoenix Multicultural in
"Marketing to Multicultural Kids" audio recording

Michele Valdovinos gives a presentation and participates in an extended Q&A discussion about multicultural children based on a Phoenix Multicultural and Nickelodeon study of 1,300 multicultural children in 16 United States markets.
Find out about
• The Phoenix Multicultural Kids Study
• Relationship between children and their context
• Issues relating to family, technology and media, diversity, buying power, relationships in household, self perception, values, acculturation, cultural heritage, frequency of media activity, income and spending, brand preferences, the American Dream
• How many billions of dollars buying power multicultural kids children have
• Children's spending attitudes, habits by ethnicity
• How much money a year Hispanic kids have available to spend
• Types of products Hispanic kids buy
Click here for information on "Marketing to Multicultural Kids"
---