Posted by Elena del Valle on February 29, 2008
"The Winged Man" poster
Photos: Theo Hand 
Oscar-nominated screen writer Jose Rivera, known for his work on "The Motorcycle Diaries," and producers Stephanie Bell and Camillia Sanes are releasing a new short film about a brief romance between a young girl and a dying angel. The national premier of "The Winged Man" will be March 3, 2008 in Los Angeles. A second screening is scheduled in May 2008 at the Gold Harmony Theatre in Hollywood.
Filmed on location in Los Angeles at The American Film Institute; Malibu Creek State Park Tapia Park, Griffith Park Bronson Caves and Echo Park, the 15-minute magic realism film features "Ugly Betty" star Ana Ortiz and "Heroes" star Shalim Ortiz (no relation). The producers are considering internet distribution options and hope to offer the film for purchase on DVD online.
---
Make your ads resonate with Hispanics
Listen to C&R's Research Director Liria Barbosa in
"Hispanics' Perspective on Advertising" audio recording

Liria Barbosa gives a presentation and participates in an extended Q&A discussion about
• Type of ads Latinos prefer
• Latino top media choices
• Percent of Latinos who tried products because of ads
• Percent of Latinos who purchased products because of ads
• What makes an ad "Hispanic"
• If ad language is important for bicultural Latinos
• What to keep in mind when targeting bicultural Latinos with ads
Click here for information on Hispanic Perspectives on Advertising
---
The film, which had a budget of $25,000, was funded from individual and in-kind donations, and a grant from the American Film Institute's Directing Workshop for Women for their 2007 Class.
"Now in the age of the internet, we don't buy into the mentality that a short-format film has to feel like a short," said Sanes, known for her roles in from "Saving Grace," "The Shield," and "War of the Worlds." "We are on the edge of a proliferation of new formats and new revenue streams. And, thus, the ability for a short to actually recoup its costs."
With this project, veteran stage director, Marya Mazor, makes her film directing debut through AFI's Directors Workshop for Women. The producers are donating a portion of the film's financing to the Aspira Association, a non-profit organization devoted to the education of Latino youth.
Daysi (Marta McGonagle) discovers the Winged Man (Shalim Ortiz)
According to promotional materials, in "The Winged Man," Daysi, a Latina high school girl, is pregnant. She believes she carries the son of a mystical winged man she discovered, wounded, in a cave. Her mother is convinced it's the result of a one-night stand. The poetical film tries to examine beliefs and what it takes to let them go.
Daysi alternately describes the being as an angel and the last remaining member of an ancient race, while battling her mother's and best friend's doubts. As she gathers twigs for an enormous nest, and hides out in the treetops, the wind billowing in her hair, the girl's sanity comes into question. Whether her visions of meeting the Winged Man are memories or fantasies remains a mystery for the audience to decide.
---
Improve your outreach programs by understanding
how Latinos see themselves – listen to  
"Latino Identity and Situational Latinidad " audio recording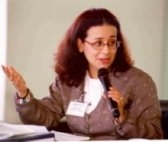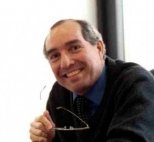 Presenters Diana Rios and Ph.D., Federico Subervi, Ph.D.
Find out
• Who is Latino
• Assimilation, acculturation and pluralism
• Hispanic culture dynamics affecting Latino
• Role of Latino identity
• Three factors that contribute to Latino identity
Click here for information on Latino Identity and Situational Latinidad
---