Posted by Elena del Valle on February 26, 2008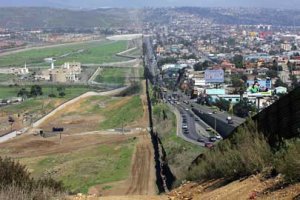 The U.S. Mexican border, U.S. is on the left side of the photo
Photos: Customs and Border Patrol (Gerald L. Nino, James Tourtellotte) 
Plans for a 28-mile long virtual fence along the Arizona-Mexico border are moving forward and it looks like Congress may give final approval for the project, according to statements issued by Homeland Security Secretary Michael Chertoff recently.
Boeing Co. is in charge of an initial $20 million contract to establish a high-tech virtual fence along the Mexican border in Arizona. Although it is a public contract, according to a representative of Boeing Co. the company is under contractual obligation to refer all questions on the project to the U.S. Customs and Border Patrol. Representatives from the U.S. Customs and Border Patrol did not respond to repeated requests for project updates.

Customs and Border Patrol staff rely on high tech equipment atop this pole to spot illegal immigrants attempting to cross into the U.S.
The Arizona portion of the high tech fence is the first part of a multibillion-dollar government plan designed to reduce illegal immigration on foot and vehicles along the Canadian and Mexican borders. The project includes 98-foot unmanned towers with cameras and sensors capable of distinguishing people from cattle from up to 10 miles.
---
Click here to buy Hyperborder
---
Chicago based Boeing is a leading aerospace company and one of the largest manufacturers of commercial jetliners and military aircraft combined. Boeing also designs and manufactures rotorcraft, electronic and defense systems, missiles, satellites, launch vehicles and advanced information and communication systems.
The U.S. Customs and Border Protection, part of the Department of Homeland Security, is in charge of securing the United States borders and defending the country's borders against terrorists and their weapons with detection technology, advanced information systems, risk-management, and collaborative ventures with the trade and foreign governments. 
---
Find out what multicultural kids across America think
Listen to Michele Valdovinos, SVP, Phoenix Multicultural in
"Marketing to Multicultural Kids" audio recording

Michele Valdovinos gives a presentation and participates in an extended Q&A discussion about multicultural children based on a Phoenix Multicultural and Nickelodeon study of 1,300 multicultural children in 16 United States markets.
Find out about
• The Phoenix Multicultural Kids Study
• Relationship between children and their context
• Issues relating to family, technology and media, diversity, buying power, relationships in household, self perception, values, acculturation, cultural heritage, frequency of media activity, income and spending, brand preferences, the American Dream
• How many billions of dollars buying power multicultural kids children have
• Children's spending attitudes, habits by ethnicity
• How much money a year Hispanic kids have available to spend
• Types of products Hispanic kids buy
• Quantitative and qualitative research findings
• Practical applications of information in marketing programs
• Areas of the country where the Latino kids market is booming
Click here for information on "Marketing to Multicultural Kids"
---