Posted by Elena del Valle on February 25, 2008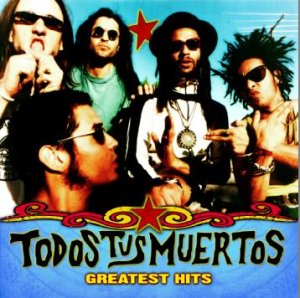 Todos Tus Muertos Greatest Hits album cover
Photos: National Records
Argentina punk reggae rock group Todos Tus Muertos released its latest album, Todos Tus Muertos Greatest Hits, in the United States February 19, 2008. Before that, their music had been out of print in the United States for almost 10 Years. The release makes the album available at digital outlets for the first time.
The Argentine rasta-punk band's Greatest Hits album is described as a collection of the group's classic tracks and several bonus songs. Highlights include "Dale Aborigen," featuring Manu Chao as well as members of Los Fabulosos Cadillacs and Los Autenticos Decadentes.
Todos Tus Muertos
Todos Tus Muertos ("All Your Dead") was established in 1985 with singer Pablo "Dronkit Master" Molina, guitarist Horacio "Gamexane" Villafañe, bassist Félix Gutiérrez, drummer Pablo Potenzoni and singer Fidel Nadal. The group named itself in honor of the tens of thousands of people killed by former Argentine dictator Jorge Rafael Videla. Todos Tus Muertos first became popular in the Buenos Aires music scene with its mixture of social messages and punk, ragga, reggae and raw mixes.
---
"Emotional Branding: How to capture the heart and mind of the Hispanic consumer" audio recording


 Receive a free downloadable copy by completing our Visitor Survey.
Click here for your free copy of Emotional Branding
---
Known for their explosive live shows, Buenos Aires based Todos Tus Muertos has toured across North America, South America, Europe and Asia. Previous albums include Dale Aborigen, Argentina Te Asesina – En Vivo, Subversiones, Todos Tus Muertos, El Camino Real, and Nena de Hiroshima.
Following is a list of the Greatest Hits 18 tracks:  Andate, Rasta Vive, Sé Que No/Requebra, No Te La Vas A Acabar, Todo Lo Daría, Tu Alma Mía/Adelita, Mate, Asesinos Profesionales, Jah Lion, Mandela, Hijo Nuestro, Políticos, Dale Aborigen, Lehenbiziko Bala, Trece, Incomunicado, Mandela Dub, and No Más Apartheid.
---
Find out which Latino markets are booming with
"The Next Step: Secondary Latino Markets" audio recording

Presenter Dora O. Tovar, MPA
Click here for information on Secondary Latino Markets
---