Posted by Elena del Valle on February 19, 2008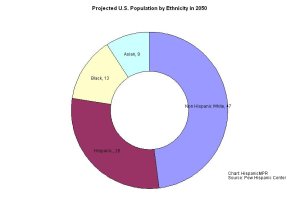 U. S. population in 2050 by ethnicity – click on image to enlarge
There should be 438 million souls in America by 2050 and Hispanics may account for 29 percent of the population. According to a recent Pew Hispanic Center report, 82 percent of the growth in the United States from now until 2050 will be the result of immigrant populations and their progeny. While white non Hispanic segments will grow 4 percent, Latino and Asian groups will triple.
By 2050, non Hispanic whites will represent 47 percent of the population, blacks 13 percent and Asian Americans 9 percent. At the same time, one in five American's may be foreign born compared to one of eight in 2005.
---
Target Latinos effectively by anticipating changes in the market with
"Hispanic Projections with 2007-08 update" audio recording

Presenter Roger Selbert, Ph.D.
Find out
About Latino buying power growth in the future
How Latino market growth compares with other markets in the U.S.
What drives the rise of Latino economic clout
Who should target the Latino market
What is the size of the Hispanic affluent market
If the luxury Latino market is growing
Stay ahead of your competion with "Hispanic Projections"
---
The Pew Hispanic Center estimates are slightly higher than the U.S. government's. The Census Bureau estimates there will be 420 people in the U.S. by 2050. Pew researchers believe immigration will result in 117 million new residents to our country, 67 million from immigrants and 50 million from the American born children and grandchildren of immigrants.
The report was authored by Jeffrey S. Passel, a senior research associate, and D'Vera Cohn, a senior writer, at the Pew Hispanic Center. Prior to working at Pew he was principal research associate at the Urban Institute's Labor, Human Services and Population Center. Before joining Pew, she was a reporter for 21 years at The Washington Post, where she wrote about race, immigration, and other topics from 1991 to 2006.
The Pew Hispanic Center, an initiative of the Pew Research Center, is a non-partisan, non-advocacy research organization based in Washington, D.C. The Pew Hispanic Center is funded by The Pew Charitable Trusts.
---
"Segmentation by Level of Acculturation" audio recording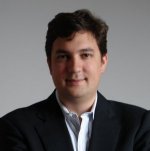 Presenter Miguel Gomez Winebrenner
Discusses
Assimilation versus acculturation
Factors that affect Latino acculturation
How to know if someone is acculturated
Number of years necessary for acculturation
Effects of immigration debate on acculturation
Three main ways of segmenting Latinos
Click here for details about "Segmentation by Level of Acculturation"
---