Posted by Elena del Valle on February 18, 2008
Information provided by our Event Partner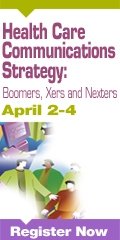 Join the PRSA Health Academy at our 19th Annual Conference in Chicago as we address strategies for communicating in today's challenging world where "one size, same message" is no longer what the doctor or consumer ordered.
Finely targeted and segmented communications play a critical role in effectively reaching the cross-generational, multicultural health care consumer. Increasingly culturally and generationally diverse, today's health care consumers desire to live long, be young and in control, and want products and services sensitive to their age, gender, ethnicity, sexual orientation and active lifestyles. Don't miss this opportunity to sharpen your public relations skills and network with colleagues as we dissect the DNA of the generations and cultures that are already having a profound effect on American health care.
Keynote Speakers:
Jane Brody, The New York Times' personal health columnist and author (April 3)
Jane Brody has written over 10 books on nutrition and health and lectures  frequently to audiences both lay and professional. She has appeared on hundreds of radio and television shows throughout the country and has received numerous prestigious awards for journalistic excellence. Jane will share with us her unique health care in American society.
Jonathan Karl, ABC News' senior national correspondent (April 4)
Jonathan Karl has reported on two presidential elections, President Clinton's impeachment, the NATO air strikes against Yugoslavia and congressional reaction to the September 11, 2001 terrorists attacks. He was also the first reporter to obtain the Starr Report, one of the most sought-after political documents in recent years. Karl previously served as a congressional correspondent for CNN, covering Capitol Hill, the White House and the Pentagon. Jonathan will speak on the political elections and the candidates' impact on health care.
Additional Conference Highlights:
Pre-Conference Seminar (April 2)
 Journal of the American Medical Association
 Senior physician editors, leading media relations staff and key national medical  journalists will discuss the issues and processes of communicating the latest  medical-scientific and health policy news at JAMA: Journal of the American Medical  Association. Whether you're an agency pro, a staffer for an academic medical  center, association or another type of health care organization, you'll benefit from  this session focused on the news operation surrounding these prestigious and  important publications.
 Plenary and Concurrent Sessions (April 3-4)
 Networking Opportunities including the Health Academy Awards Reception
Register at http://www.healthacademy.prsa.org/