Posted by Elena del Valle on February 8, 2008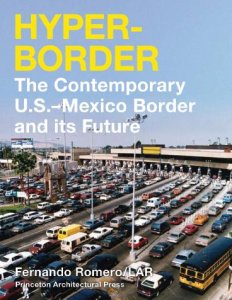 Hyperborder The Contemporary U.S.-Mexico Border and its Future cover
Photos: Alfonso Caraveo, Colegio de la Frontera Norte, LAR/Fernando Romero
The Mexico-United States border, with one million daily crossings, is one of the busiest borders in the world. The ninth longest in the world and the fourth longest in the Americas, it has an area bigger than some countries like Spain or Sweden and a population greater than Portugal or Guatemala.
Mexico City resident and architect Fernando Romero, with the help of nine project staff including two designers, interviewed academics, researchers and organizational representatives in North America to write about the United States-Mexico border from multiple points of view reflective of varied disciplines. In his recently published 317-page paperback book, Hyperborder The Contemporary U.S.-Mexico Border and its Future (Princeton Architectural Press, $35) he dedicated 15 chapters to the topic.
---
Target Latinos effectively by anticipating changes in the market with
"Hispanic Projections with 2007-08 update" audio recording

Presenter Roger Selbert, Ph.D.
Find out
About Latino buying power growth in the future
How Latino market growth compares with other markets in the U.S.
What drives the rise of Latino economic clout
Who should target the Latino market
What is the size of the Hispanic affluent market
If the luxury Latino market is growing
Stay ahead of your competition with "Hispanic Projections"
---
In the book, he describes the U.S.-Mexico border as "among the most contrasting borders in the world" and "a dynamic site that encompasses modern global issues." He uses the term hyperborder to describe a geographical and political boundary as well as a demarcation line for culture and economic conditions.
Romero's book is peppered liberally with black and white photos, maps, graphs, charts and bright orange accents to highlight and emphasize content. He starts from far away; looking at borders in other parts of the world to provide a comparative understanding of what makes the United States-Mexico border special. He dedicates several chapters to border data, reactions to the border and the relationship between the two neighboring countries and its significance.
Fernando Romero, author, Hyperborder
He examines 12 themes he believes will play a pivotal role in the future of the border and the two countries that share it. These are: security issues, drug traffic, informal sector, migration, education, trade and economic development, transportation, energy, environment, health and urbanization.
Mexico City born Romero is the founder of Laboratory of Architecture (LAR), a Mexico City-based architecture firm established to address society through a process of architectural translation and urban study.
---
Click here to buy Hyperborder
---