Posted by Elena del Valle on February 5, 2008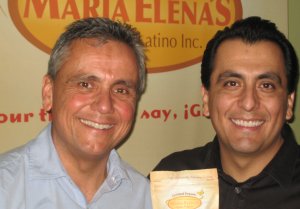 Jerry and Victor Gonzalez, owners of  Maria Elena's Authentic Latino Inc.
Photos: Maria Elena's Authentic Latino Inc.
In April 2005, California brothers Jerry and Victor Gonzalez established Maria Elena's Authentic Latino Inc. to offer fruit beverages made from concentrate to Latino consumers in their area. They named the company in honor of their mother, Maria Elena de Gonzalez.
In January of this year, Maria Elena's Authentic Latino Inc. introduced an organic horchata water soluble drink mix made with rice and cinnamon. The mix is rich in calcium without gluten or Trans fats. With a slightly thicker consistency than water based drinks, it is described by some as tasting "like cinnamon crunch cereal" without the crunch.
Manufactured domestically, the new drink mix will be available at natural food retailers in Southern California in 10-ounce packs for home use for $3.89. It will also be available nationwide in a 1.5 Pound institutional pack for restaurants and coffee houses.
"We consider ourselves Latino Food Artisans," said Jerry Gonzalez, who worked with Whole Foods Markets for nearly 15 years. "Our mission is to use our deep understanding of natural and organic foods to offer consumers fresh new tastes that put both a nutritious and a delicious twist on traditional Hispanic foods."
New Horchata mix
Initial efforts will focus on distribution and eventually lead to a promotional program. The new horchata mix may be available in Southern California, Arizona and Nevada as well as online within the near future.
"Our initial efforts with Maria Elena's Organic Horchata will be a strong push for increased distribution at retail, supported by Account Specific Marketing with key customers. POS, sampling, and cross-promotions with other health-related natural products are all being explored. We are also looking at targeted trade efforts, event marketing and interactive. As wider distribution is achieved we will follow with increased consumer trial-building programs and advertising. Budget is undisclosed," said Joseph G. Albonetti, president of Latinolandia USA, Maria Elena's Authentic Latino's agency of record.
Maria Elena's Authentic Latino's primary target audience is second generation acculturated Latinos and customers who like Latino foods. The Hispanic owned and minority certified company is based in Valencia, California where it recently opened a food manufacturing facility. Maria Elena's Authentic Latino donates a portion of its profits to La Fundacion Juventud Maria Elena's, its foundation for Hispanic youth.
---
Make your ads resonate with Hispanics
Listen to C&R's Research Director Liria Barbosa in
"Hispanics' Perspective on Advertising" audio recording

Liria Barbosa gives a presentation and participates in an extended Q&A discussion about
• Type of ads Latinos prefer
• Latino top media choices
• Percent of Latinos who tried products because of ads
• Percent of Latinos who purchased products because of ads
• What makes an ad "Hispanic"
• If ad language is important for bicultural Latinos
• What to keep in mind when targeting bicultural Latinos with ads
Click here for information on Hispanic Perspectives on Advertising
---