Posted by Elena del Valle on January 31, 2008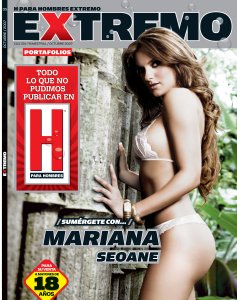 H para Hombres Extremo October 2007 cover
Last year, Notmusa USA, the Mexican parent company of Maya Magazines, Inc. launched H para Hombres Extremo, an ad free adult photo magazine targeting Spanish dominant Latino men 18 and older in the United States. Partner to H para Hombres magazine, the new magazine averages 128 pages per issue and is published bimonthly.
It is available in California, Chicago, Florida, Georgia, New Jersey, New York, and Texas by subscription and at newsstands. It has a cover price of $6.95. The annual subscription costs $35.
Circulation started at 5,000 in the United States and has already reached 25,000. The Mexican edition has a circulation of 400,000. The magazine features scantily dressed and nearly naked young women in provocative poses in themed settings and costumes. Magazine representatives are considering building a matching website for H para Hombres Extremo this year.
Notmusa has been in business for 51 years in Latin America. Other publications in its roster include Veintitantos, Ser Mama, and Notas Para Ti. In the United States, where it is represented by Miami Beach based Maya Magazines, its first publication was TVnotasUSA.