Posted by Elena del Valle on January 23, 2008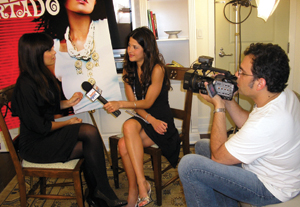 Nelly Furtado interview on "LatinEyes" 
Photo, video: Luminacion
"LatinEyes," a 30-minute English language lifestyle and travel program that began airing nationally two years ago, is targeting acculturated Latinos within the United States and beyond its borders. Promoters are relying on a multiplatform approach to capture the show's many feminine viewers wherever they may be. Scroll down to watch a short video about "LatinEyes."
Every week, 26 million viewers, 65 percent women and 10 percent non Hispanic, watch the program on television. About 40 percent of the show's television adult audience is 18 to 49 years old and 52 percent is between 25 and 54.
The year round program, winner of a 2006 Northern California Emmy, can be seen on television and online. Soon it will become available on cell phones and aboard some international flights. Marketers for the show hope to leverage the program's offline presence to drive its online and other platform distribution.
---
Make your ads resonate with Hispanics
Listen to C&R's Research Director Liria Barbosa in
"Hispanics' Perspective on Advertising" audio recording

Liria Barbosa gives a presentation and participates in an extended Q&A discussion about
• Type of ads Latinos prefer
• Latino top media choices
• Percent of Latinos who tried products because of ads
• Percent of Latinos who purchased products because of ads
• What makes an ad "Hispanic"
• If ad language is important for bicultural Latinos
• What to keep in mind when targeting bicultural Latinos with ads
Click here for information on Hispanic Perspectives on Advertising
---
Online, some segments of the program are available on the "LatinEyes" website, reaching between 10,000 and 20,000 fans. "LatinEyes" joined Joost in October 2007 as part of the online video collection's catalog allowing Joost subscribers in the United States to watch the program online at a time and date of their choice. Beginning February 2008, the show will be available on mobile devices on the LatinEyes mobile social network with a built in audience of 50,000 subscribers.
"On November 2007, I came across a study from the Center for Media Research that stated 80 percent of marketers plan to spend between 10-30 percent of their marketing dollars against new and/or emerging media formats in the next two years. 'LatinEyes' offers marketers with access to the fast growing Hispanic market via a unique platform that encompasses online, offline and in-flight entertainment. This is a unique opportunity for marqueters that want to test new media offerings," said Ivan Cevallos, chief executive officer of Luminacion, the program's exclusive marketing representative.
---
"Best in Class Hispanic Strategies" audio recording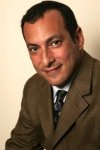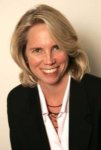 Presenters Carlos Santiago and Derene Allen
Find out what makes 25 percent of the top 500 Hispanic market advertisers out perform the remaining companies

Discover what questions to ask, steps to take to be a Best in Class company
Click here for information on "Best in Class Hispanic Strategies" audio recording
---
In May 2008, some "LatinEyes" shows are expected to become part of the in-flight entertainment on board AeroMexico and LAN airlines in destinations to and from the U.S. to Mexico and Latin America. Between 10,000 and 30,000 passengers are exposed to the in-flight entertainment features every month.
"LatinEyes," owned by LatinEyes Media and Andres Pruna, has been on the air since 1999, when it began broadcasting in San Francisco as a sample show for AT&T's local television affiliate. Now, the program is broadcast to 80 markets in the U.S. via local stations, America One and CoLours networks.
Topics include music entertainment, celebrities, food, sports and travel. Celebrities LatinEyes staff have interviewed include Benjamin Bratt, Salma Hayek, Jennifer Lopez, Juanes, Nelly Furtado, Cachao, Los Amigos Invisibles, Café Tacuba and Andy Garcia. The show, produced by Pruna, has also featured trips to Argentina, Peru, Cuba, Guatemala, Ecuador and Mexico. There are seven "LatinEyes" employees, including first and second generation reporters and producers from El Salvador, Ecuador, Mexico, Venezuela, Brazil and Cuba.
In spite of the program's enviable growth, "LatinEyes" execs are not sitting on their laurels. In addition to the expanded viewing platforms, plans are in the works for a website revamp. The new portal is expected to feature an enhanced Web 2.0 experience with social and mobile interaction as well as sponsor driven contests.