Posted by Elena del Valle on January 14, 2008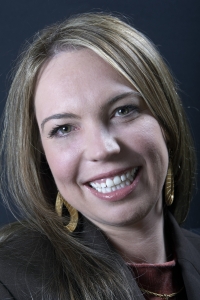 Liria R. Barbosa, research director, C&R Research
Photo: C&R Research
A podcast interview with Liria R. Barbosa, research director, C&R Research is available in the Podcast Section of Hispanic Marketing & Public Relations, HispanicMPR.com. During the podcast, Liria discusses Hispanics' perspectives on advertising with Elena del Valle, host of the HispanicMPR.com podcast. 
Liria joined C&R in 2005 bringing with her tri-lingual and multi-cultural moderating and analysis expertise. A native of Sao Paulo, Brazil Liria spent several years studying and working in Mexico. At Cultural Access Group, as well as at Synovate, she was responsible for multi-ethnic qualitative studies focusing on U.S. minority, Latin America and Caribbean markets.
Liria has experience working with household cleaners, automotive, financial services, telecommunications, pharmaceuticals, alcohol beverages and health and beauty aide projects. She has moderating experience in English, Spanish and Portuguese. 
Liria has a Bachelor of Science degree in Business Administration majoring in International Business from Barry University in Miami, Florida. She has also attended courses at the Burke Institute and Riva.
To listen to the interview, scroll down until you see "Podcast" on the right hand side, then select "HMPR Liria Barbosa," click on the play button below or download the MP3 file to your iPod or MP3 player to listen on the go, in your car or at home. To download it, click on the arrow of the recording you wish to copy and save to disk. The podcast will remain listed in the January 2008 section of the podcast archive.
---
Make your ads resonate with Hispanics
Listen to C&R's Research Director Liria Barbosa in
"Hispanics' Perspective on Advertising" audio recording

Liria Barbosa gives a presentation and participates in an extended Q&A discussion about
• Type of ads Latinos prefer
• Latino top media choices
• Percent of Latinos who tried products because of ads
• Percent of Latinos who purchased products because of ads
• What makes an ad "Hispanic"
• If ad language is important for bicultural Latinos
• What to keep in mind when targeting bicultural Latinos with ads
Click here for information on Hispanic Perspectives on Advertising
---
A video message in Spanish from one of our sponsors
---