Posted by Elena del Valle on December 18, 2007
Although Congress has been unable to reach consensus on immigration reform, national and state authorities have introduced new enforcement measures including faster deportations, additional workplace raids, and restrictions on access to driver's licenses and other government services. This increased attention on illegal immigration issues and heightened enforcement is causing many Hispanics unease, according to a Pew Hispanic Center 2007 National Survey of Latinos.
The Center conducted the survey by telephone from October 3 through November 9, 2007 among a random sample of 2,003 Hispanic adults the center considered nationally representative. Nine researchers contributed to the final report.
Based on the results of the survey, Pew researchers believe Hispanics, foreign born Latinos in particular, view illegal immigration in a positive light and consider it is beneficial for Latino communities and the country's economy overall. More than 50 percent of Latinos surveyed in the United States worry that they or a loved one could be deported.
About half of Hispanic survey respondents believe they have suffered as a direct result of increased focus on immigration, and two thirds are convinced their life is more difficult due to the failure of Congress to enact legislation to address immigration reform.
---
Target Latinos effectively by anticipating changes in the market with
"Hispanic Projections with 2007-08 update" audio recording

Presenter Roger Selbert, Ph.D.
Find out
About Latino buying power growth in the future
How Latino market growth compares with other markets in the U.S.
What drives the rise of Latino economic clout
Who should target the Latino market
What is the size of the Hispanic affluent market
If the luxury Latino market is growing
Stay ahead of your competion with "Hispanic Projections"
---
Survey respondents said some of the negative effects on them of the public's focus on illegal immigration include difficulty finding work or a place to live. They are also less likely to rely on government services or travel outside the country; and they believe there is a greater probability than in the past that they will be asked to produce documents to prove their immigration status.
While many Latino respondents oppose the new federal and state enforcement measures, non-Hispanics are supportive of the new illegal immigration enforcement policies. About 75 percent of Hispanics surveyed disapprove of workplace raids; about 79 percent prefer local police not play an active role in identifying illegal immigrants; and 55 percent disapprove of states checking for immigration status before issuing driver's licenses. A slight majority of non-Hispanics favor workplace raids and a heavy majority favor driver's license checks.
At the same time that Hispanics and non Hispanics have contrary opinions about enforcement policies, there is a significant difference in opinion within the Latino community about enforcement issues, illegal immigration, and discrimination. Native born Hispanics and their foreign born counterparts sometimes disagree, according to the survey findings. Native born Hispanics opinions are closer to those of the rest of the U.S. population regarding enforcement policies than those of foreign born Hispanics.
Native born Latinos are less likely than foreign born Latinos to describe a negative personal impact due to increased focus on illegal immigration. Non citizen Hispanics feel "much more vulnerable" than Hispanics who are citizens. Latinos who are not citizens are twice as likely as Hispanic citizens to worry about deportation and to feel current policies have a direct impact on their lives.
According to the survey, in spite of the new felt vulnerability Hispanics see as the result of the current anti immigration climate, Hispanics themselves don't seem to oppose illegal immigration. Instead, Latinos hold immigration, even when it's illegal, in high esteem. Native born Latinos have a more positive attitude about the effect of illegal immigration than do foreign born Latinos. More than half, 64 percent, of native born Latinos think there is a positive effect compared to 54 percent who, only five years ago, thought the impact of illegal immigration was beneficial.
The Pew Hispanic Center, an initiative of the Pew Research Center, is a non-partisan, non-advocacy research organization based in Washington, D.C. The Pew Hispanic Center is funded by The Pew Charitable Trusts.
---
Listen to Cesar Melgoza discuss 
"Changing Latino Landscape" audio recording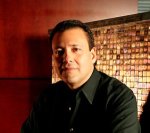 Presenter Cesar Melgoza, managing director, Latin Force Group
Find out about
• How demographic, social, political and economic factors affect Latinos
• Number of Hispanics in U.S.
• Hispanics as a percent of the mainstream population
• Number of Puerto Ricans in Puerto Rico
• Hispanics, including Puerto Rico, as a percent of U.S. mainstream
• Number of Asians and African Americans
• Estimated size of Hispanic market by 2012
• Percentage growth of new Hispanics per year
• Number of counties where Latinos are majority
• Areas of significant Latino growth
• Area of U.S. with a 950 percent Latino growth
• Role of acculturation
• Hispanicity segmentation
Click here for information on the Changing Latino Landscape
---