Posted by Elena del Valle on December 13, 2007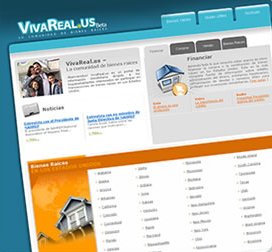 Photos: Bilingual Marketing Group
Bilingual Marketing Group recently launched VivaReal.us, a Spanish language website offering home buyers bilingual real estate information about professionals, home-buying how-to videos and podcasts online. The website features original articles, without a byline, written by freelance writers, native Spanish speakers, who have lived in the designated area for two years or longer; as well as audio content in Spanish and English to help Spanish speaking home buyers learn about the home-buying process in easy to understand terms. There are seven videos, five full video guides and two news in video recordings.
Topics listed include How to buy a home (Cómo comprar una casa) and How to finance a home (Cómo financiar una casa). The website features English language video interviews with the president and a former board member of the National Association of Hispanic Real Estate Professionals. Organizers hope to include property listings, blogs, and social networking features soon.
Brian Requarth, chief executive officer of Bilingual Marketing
"Our goal is to create a search engine optimized, online community that connects Hispanic home buyers with easy-to-understand information about the home-buying process and the real estate professionals and experts that can help them buy a home," said Brian Requarth, chief executive officer of Bilingual Marketing. "VivaReal.us is totally tailored to the Latino experience. Unlike many sites that translate English content into Spanish, we wrote everything in Spanish with the Latino home buyer specifically in mind."
---
Discover how to reach Latinos in language today with
"Hispanic Market Translation Issues" audio recording

Presenter Martha E. Galindo
Translation company owner Martha E. Galindo explains
Why it's important to reach your clients in language

Ins and outs of translations issues

How to select a translator

What to expect

How to save on translation costs

Much more
Find out why its important to reach clients in language "Hispanic Market Translation Issues"
---
"VivaReal.us takes consumer education to the next level by making the information widely available to homebuyers in audio and video formats," said Timothy Sandos, chief executive officer of the National Association of Hispanic Real Estate Professionals. "Tools like this will help take the fear factor out of the process and foster a real understanding of home-buying for Spanish speaking consumers."
According to promoters of the website, although Hispanic homebuyers are expected to drive the first-time buyer market in the years to come, there is a shortage of homebuyer resources in Spanish in the marketplace. A 2006 University of Notre Dame Institute for Latino Studies report indicates that between 1995 and 2005 30 percent of the total growth in U.S. households was from Hispanics.
For that same time period almost two-thirds of the total growth in Hispanic households was for owner-occupied homes; Hispanic gains played a role in stabilizing the rental home market by offsetting 98 percent of the net decrease in non-Hispanic renter-occupied households nationwide. In 2003, 3.2 million Hispanic renters dedicated 50 percent or more of their income to housing, a 32 percent increase in only two years.
Bilingual Marketing Group was founded in 2004 and forms part of ColConnect, a California LLC. The Santa Rosa, California company offers online marketing services to real estate related business in the United States and also has an office in Bogotá, Colombia. The company owners and senior officers are Requarth, Andrea Palacios, chief financial officer and Thomas Floracks, chief technology officer.
---
Target Latinos effectively by anticipating changes in the market with
"Hispanic Projections with 2007-08 update" audio recording

Presenter Roger Selbert, Ph.D.
Find out
About Latino buying power growth in the future
How Latino market growth compares with other markets in the U.S.
What drives the rise of Latino economic clout
Who should target the Latino market
What is the size of the Hispanic affluent market
If the luxury Latino market is growing
Stay ahead of your competion with "Hispanic Projections"
---