Posted by Elena del Valle on December 3, 2007
Zon del Barrio album cover
Photo: Jerry LaCay
Video: Ed Rodriguez, Diesel Media
New York Latin band Zon del Barrio recently released its debut CD, "Cortijo's Tribe" with the help of Emusica Records and Barrio Zone Productions. The Spanish Harlem group describes its style as structured on a solid foundation of Afro-Caribbean rhythms with a New York twist and a celebration of Afro-Antillian music.
Led by Latin music historian, writer, composer and musician Aurora Flores, Zon del Barrio's Cortijo's Tribe: La Tribu de Cortijo relies on Afro-Puerto Rican music veterans Yomo Toro, the King of the cuatro (the national 10-stringed guitar of the island) and Sammy Ayala, Cortijo alum, singer and songwriter. Hector "Papote" Jimenez, a native New Yorker, is the youngest addition to the band.
Zon del Barrio is a play on words for the musical genre son of Latino communities. Produced by musical director David Fernandez, the CD blends dance rhythms of Cuba and Puerto Rico within a New York setting. According to promotional materials it includes elements of jazz, R&B, hip-hop, funk and reggaetón, raw street plenas and bombas. Cortijo's Tribe follows the production style of salsa artists Al Santiago whose approach is said to have paved the way for the Fania music explosion of the 1970s.
Zon Del Barrio has shared the stage with Spanish Harlem Orchestra, Oscar D'Leon, Bobby Valentin, Michael Stuart, Larry Harlow, Jimmy Bosch, Andrea Brachfeld, La India, and Chembo Corniel. The band has appeared on Univision during the Latin Grammy Awards, on the morning show "Despierta America" on Telemundo, Fox 5, Manhattan Neighborhood Network and the Vic-Fezensac Salsa festival in Toulouse, France; the Howl Festival in the Lower East Side, the Orchard Beach Salsa Concert Series, the Half Marathon in Battery Park, The River to River Festival, and the Borgata Hotel & Casino in Atlantic City.

 Click on the button to hear "El Negron Bembon"
---
Click here to purchase Cortijo's Tribe CD
---
Listen to Cesar Melgoza discuss 
"Changing Latino Landscape" audio recording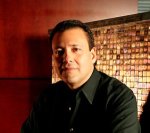 Presenter Cesar Melgoza, managing director, Latin Force Group
Find out about
• How demographic, social, political and economic factors affect Latinos
• Number of Hispanics in U.S.
• Hispanics as a percent of the mainstream population
• Number of Puerto Ricans in Puerto Rico
• Hispanics, including Puerto Rico, as a percent of U.S. mainstream
• Number of Asians and African Americans
• Estimated size of Hispanic market by 2012
• Percentage growth of new Hispanics per year
• Number of counties where Latinos are majority
• Areas of significant Latino growth
• Area of U.S. with a 950 percent Latino growth
• Role of acculturation
• Hispanicity segmentation
Click here for information on the Changing Latino Landscape
---