Posted by Elena del Valle on November 30, 2007
Rick Najera, vice president, Programming Development, LATV
Photo: LATV 
LATV Networks, a bilingual music and entertainment network distributed via digital multicast, signed an agreement with Over-Man Productions for the comedic animated series "Caesar and Chuy." The second animated series in LATV's original programming block, "Caesar and Chuy" premiered November 8 at 9:30 p.m. PT.
"Our viewers look to us for edgy and fun programming, reflecting the bicultural and bilingual experience in America. 'Caesar and Chuy' provides exactly that, an irreverent slice-of-life commentary that is classic LATV," said Rick Najera, vice president, Programming Development, LATV. "This series is funny, top-notch and very on-the-mark. We certainly think it will connect with our audience nationwide."
Caesar and Chuy are animated rockers and music video critics who comment on people and music from their very cheeky point of view. According to the LATV website, Ceasar likes positive energy, meditation and wheat grass.  Chuy loves fried food, partying,  and get rich quick schemes.
The animated series is the work of Artistic Warfare and Alfonso Arney Designs as Over-Man Productions. The executive producers are Keu Reyes and Alfonso Arney. The voice of Caesar is played by Reyes who is also the creator and writer of Nut'n Nice; the voice of Chuy is played by Najera.
"The Homies Hip-Hop Show," based on the worldwide figurine created by Dave Gonzales, was the first LATV animated program. Skits on the show parody popular culture and life in general. The stop-motion, one-hour program animated by Nicholas Romero is written by Renee Sandoval, Oskar Toruno and Najera who also wrote for "MAD TV" and "In Living Color" as well as creating "Latinologues." The program which consists of eight to 10 sketches and music videos, airs Tuesdays and Thursdays at 9 p.m. PT.  
Headquartered in Los Angeles, LATV has been on the air in the Los Angeles market since 2001 and launched nationally on April 23, 2007. LATV Networks, LLC is owned by Costa del Oro Media. Post-Newsweek Stations, Inc. is an investor in the national network and has a minority ownership interest in the Company as well as a seat on its Board of Directors. LATV is ad-supported and offers original and live programming, music, lifestyle and entertainment. The network targets 12 to 34 year-old Latinos.
---
Listen to Cesar Melgoza discuss 
"Changing Latino Landscape" audio recording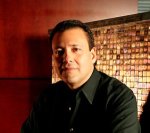 Presenter Cesar Melgoza, managing director, Latin Force Group
Find out about
• How demographic, social, political and economic factors affect Latinos
• Number of Hispanics in U.S.
• Hispanics as a percent of the mainstream population
• Number of Puerto Ricans in Puerto Rico
• Hispanics, including Puerto Rico, as a percent of U.S. mainstream
• Number of Asians and African Americans
• Estimated size of Hispanic market by 2012
• Percentage growth of new Hispanics per year
• Number of counties where Latinos are majority
• Areas of significant Latino growth
• Area of U.S. with a 950 percent Latino growth
• Role of acculturation
• Hispanicity segmentation
Click here for information on the Changing Latino Landscape
---