Posted by Elena del Valle on November 13, 2007
                Mariela Dabbah, campaign spokesperson, McDonald's                 
        
Photo: McDonald's
McDonald's teamed up with the Hispanic Scholarship Fund to offer five Steps For Success College Workshops to encourage greater Hispanic college enrollment. The free workshops are designed to provide parents and students with information about the college application process, including financial aid and how to apply for scholarships.
The campaign which promoters hope will reach 25 million people will rely on a media tour with spokesperson Mariela Dabbah. Other campaign tools are promotional flyers and posters distributed at local community events, local community organizations, and schools, calendar listings in newspapers, public service radio announcements, and online information including bylined articles by Mariela Dabbah, vignettes of workshops, and scholarship information. Steps for Success College Workshop are planned in Baldwin Park, California; Chicago, Illinois; Newark, New Jersey; San Antonio, Texas; and Tampa, Florida.
"Since the establishment of the RMHC/HACER Scholarship Program in 1985, McDonald's has been a strong supporter of college education for Hispanics.  We recognize that for many Hispanic parents and students, attaining a college education is a dream," said Cristina Vilella, director of Marketing, McDonald's USA. "These workshops offer the tools and information they need to make that dream a reality and to learn about the many scholarship programs available like RMHC/HACER, a program of Ronald McDonald House Charities and its local U.S. Chapters."
The bilingual Steps for Success College Workshops will include a session for parents led by Dabbah, author of Help your Children Succeed in High School and Go to College, A Special Guide for Latino Parents. Workshop participants may receive a free copy of the book. 
---
"Latino Family Dynamics" audio recording


 Brenda Hurley and Liria Barbosa
Discuss
Latino purchasing habits and products they favor
Latino family characteristics
Latinos and extended families
Division of duties, responsibilities within the family
Who is the decision maker in the Latino family
Who is the information provider in the Latino family
Click here to find out about Latino purchasing habits and "Latino Family Dynamics"
---
"Latino parents want the best for their children but many times they are not familiar with how to help them get into college and how to pay for it. These workshops take the mystery away and instill both parents and students with the confidence and tools they need to navigate the process successfully," said Dabbah.
 
The Steps for Success College Workshops will also introduce students and parents to the RMHC/HACER Scholarship Program. RMHC/HACER is one of the largest educational scholarship programs for Latinos in the country, and has awarded over $15 million in scholarships since its inception in 1985.  
"The goal of these workshops is to guide parents and students, many of whom will be the first in their families to go to college, through the maze that is the college admissions process," said Christopher E. Jones, chief operating officer, Hispanic Scholarship Fund.
McDonald's USA, LLC, is a leading fast food provider in the United States.  More than 80 percent of McDonald's 13,700 U.S. restaurants are independently owned and operated by local franchisees. Ronald McDonald House Charities, a non-profit, 501 (c)(3) corporation, creates, finds and supports programs to improve the health and well being of children. Ronald McDonald House, Ronald McDonald Family Room, and Ronald McDonald Care Mobile program, are the organization's main programs.
The Hispanic Scholarship Fund (HSF) supports Hispanic higher education. Founded in 1975 as a 501(c)(3) non-profit organization, HSF's vision is to strengthen the country by advancing college education among Hispanic Americans. In its 32-year history, HSF has awarded more than 82,000 scholarships worth more than $221 million to Latinos from all 50 states, Puerto Rico, Guam and the U.S. Virgin Islands.
---
Listen to Cesar Melgoza discuss 
"Changing Latino Landscape" audio recording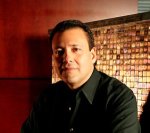 Presenter Cesar Melgoza, managing director, Latin Force Group
Find out about
• How demographic, social, political and economic factors affect Latinos
• Number of Hispanics in U.S.
• Hispanics as a percent of the mainstream population
• Number of Puerto Ricans in Puerto Rico
• Hispanics, including Puerto Rico, as a percent of U.S. mainstream
• Number of Asians and African Americans
• Estimated size of Hispanic market by 2012
• Percentage growth of new Hispanics per year
• Number of counties where Latinos are majority
• Areas of significant Latino growth
• Area of U.S. with a 950 percent Latino growth
• Role of acculturation
• Hispanicity segmentation
Click here for information on the Changing Latino Landscape
---