Posted by Elena del Valle on October 11, 2007
 Jim Vella, president, Ford Motor Company Fund and Community Services
Photo:  Ford Motor Company Fund
In celebration of National Hispanic Heritage Month, the Ford Motor Company Fund and Community Services are supporting BizFest, a leadership development and entrepreneurship training program created by the United States Hispanic Chamber of Commerce Foundation that brings together Hispanic high school students from across the country to compete for scholarships, prizes and long-term business support.
The Fund will also reach out to middle school children through the Ford Hispanic Heritage Art Program, a national partnership with Newspapers in Education designed to sharpen student's art and writing skills as they learn about Hispanic and American history. The Fund was a sponsor of the National Hispanic Foundation for the Arts (NHFA) Noche de Gala in Washington, D.C. to raise funds for graduate scholarships to Latino students.
"Ford has a long history of partnering and working with the Hispanic community. We are proud to continue our tradition of creating and supporting educational and leadership opportunities in the Hispanic community while promoting cross-cultural exchange," said Jim Vella, president, Ford Motor Company Fund and Community Services.
---
Listen to Cesar Melgoza discuss 
"Changing Latino Landscape" audio recording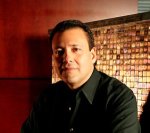 Presenter Cesar Melgoza, managing director, Latin Force Group
Find out about
• How demographic, social, political and economic factors affect Latinos
• Number of Hispanics in U.S.
• Hispanics as a percent of the mainstream population
• Number of Puerto Ricans in Puerto Rico
• Hispanics, including Puerto Rico, as a percent of U.S. mainstream
• Number of Asians and African Americans
• Estimated size of Hispanic market by 2012
• Percentage growth of new Hispanics per year
• Number of counties where Latinos are majority
• Areas of significant Latino growth
• Area of U.S. with a 950 percent Latino growth
• Role of acculturation
• Hispanicity segmentation
Click here for information on the Changing Latino Landscape
---
Ford Motor Company and its philanthropic arm, Ford Motor Company Fund and Community Services, boast of a 30 year collaborative relationship with the Hispanic community. Established in 1949 and made possible by Ford Motor Company profits, Ford Motor Company Fund supports initiatives and institutions that foster innovative education, auto-related safety, and American heritage and legacy.
In the past, Ford has supported, among others, the Alameda National Center for Latino Arts and Culture, Our Journeys/Our Stories: Portraits of Latino Achievement, Corazon de mi vida, Picture Me Safe & Secure, Driving Skills for Life, Retratos: 2,000 Years of Latin American Portraits, Ford Partnership for Advanced Studies, National Association of Hispanic Journalists and National Association of Hispanic Publications Latino Press Fellowship and several education and scholarship programs.
Additional national Hispanic organizations the Fund supports include:  League of United Latin American Citizens (LULAC), National Council of La Raza (NCLR), National Hispanic Caucus of State Legislators (NHCSL), National Hispanic Foundation for the Arts (NHFA), and National Puerto Rican Coalition (NPRC).