Posted by Elena del Valle on October 9, 2007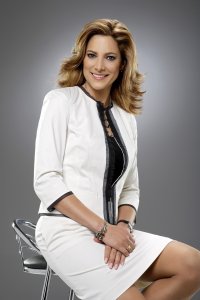 Journalist María Elvira Salazar hosts "María Elvira Live"
Photo: Spanish Broadcasting System (SBS)
In an effort to reach a wider and more diverse audience, Spanish Broadcasting System (SBS) launched a nightly news magazine program on its Miami station Mega TV Channel 22. Hosted by journalist María Elvira Salazar, "María Elvira Live" airs weekdays at 8 pm.
Producers promise to feature sophisticated television technology, cutting edge graphics and visuals while highlighting "Salazar's energetic and animated personality." Show segments in "María Elvira Live" are:  leading news stories of the day including in-studio discussions among guests; "Fuente Confidencial" featuring unconfirmed news; "Sin Anestesia," Salazar's one-minute editorial opinions on breaking news; "Fuera de Foco," Salazar's opinions on politically incorrect comments from on-air personalities; "Tiro al Blanco con Urdaneta," a bi-weekly, political satire presented by Orlando Urdaneta, a humorist and actor;  and "In Fraganti," where the audience is invited to be reporters for "María Elvira Live" by sending in their own photos, videos, complaints and opinions.
---
Listen to Cesar Melgoza discuss 
"Changing Latino Landscape" audio recording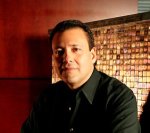 Presenter Cesar Melgoza, managing director, Latin Force Group
Find out about
• How demographic, social, political and economic factors affect Latinos
• Number of Hispanics in U.S.
• Hispanics as a percent of the mainstream population
• Number of Puerto Ricans in Puerto Rico
• Hispanics, including Puerto Rico, as a percent of U.S. mainstream
• Number of Asians and African Americans
• Estimated size of Hispanic market by 2012
• Percentage growth of new Hispanics per year
• Number of counties where Latinos are majority
• Areas of significant Latino growth
• Area of U.S. with a 950 percent Latino growth
• Role of acculturation
• Hispanicity segmentation
Click here for information on the Changing Latino Landscape
---
Salazar has worked in journalism for 22 years and received several Emmy awards. She worked as a news anchor, as a war correspondent for El Salvador's 12-year civil conflict, and as a White House correspondent. Prior to joining SBS, she worked with CNN en Español, Telemundo and Univision and hosted her own debate show, "María Elvira Confronta." 
Salazar has interviewed political and public figures, including Presidents Bill Clinton and George Bush. In 1996, she was the first Spanish-language U.S-based television reporter to obtain a one-on-one interview with Cuban leader Fidel Castro. In 2003, she interviewed Chilean President Augusto Pinochet.
A Cuban-American, Salazar was raised between Puerto Rico and Miami. She holds a Masters Degree in Public Administration from the Harvard University's John F. Kennedy School of Government. She began her broadcast career in 1983 as a reporter for Channel 23 in Miami.
Spanish Broadcasting System, Inc. is one of the largest publicly traded Hispanic-controlled media and entertainment companies in the United States. SBS owns and operates 20 radio stations located in New York, Los Angeles, Miami, Chicago, San Francisco and Puerto Rico. The Company also owns and operates Mega TV in Miami.