Posted by Elena del Valle on October 8, 2007
DeSoL's "On My Way" album
Photo: DeSoL
Latin Rockers deSoL's recently released album "On My Way" blends English and Spanish rock and Latin rhythms. The new CD from Asbury Park's deSoL is described in promotional materials as "a spiritually charged musical journey that reverberates the confidence of a band that knows exactly where they are going and has just what it takes to get them there." DeSoL was released through saZon Records/Two22 Music with distribution through ADA.
Over the course of their six years together, deSoL has toured extensively and shared marquees with R.E.M., The Legendary Wailers, Los Lonely Boys, Blues Traveler, Particle and Widespread Panic at Bonnaroo, Lollapalooza, and Austin City Limits.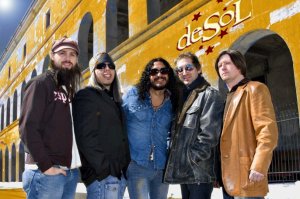 deSoL
The band's first single, "Karma," released in 2005, became a Top 5 hit on the AAA radio format. DeSol has Puerto Rican, Salvadorian, and Mexican influences and the band members' musical heroes include Fania All Stars, Tito Puente, Buena Vista Social Club, Los Lobos, and Santana.
Just before going into the studio to record "On My Way," deSoL spent a month in the Middle East under contract by the Department of Defense's Armed Forces Entertainment program. They entertained the men and women of the U.S. troops stationed in Bahrain, Qatar, Djibouti, and Kuwait.
"We've been together for more than six years now and the musical and spiritual bonds between the band members just keeps growing stronger all the time," said Albie Monterrosa, vocalist and guitarist of deSol.
---
"A Snapshot of the U.S. Hispanic Market" audio recording

Presenter Michele Valdovinos, Phoenix Cultural Access Group
Click here for information on "A Snapshot of the U.S. Hispanic Market"
---
 Click the button to hear the song Sing It All Night Long: