Posted by Elena del Valle on September 26, 2007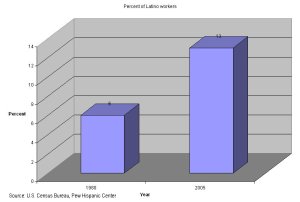 Click on image to enlarge 
The number of Latino foreign workers and their earning ability increased over the last ten years. While foreign born workers represented 7 percent of the labor pool in 1980, by 2005, they represented 15 percent of workers. Latinos accounted for 13 percent of the total labor force in 2005, up from 6 percent in 1980.
At the same time, there were 1.2 million more Latino workers in 2005 than in 1995.  Not only did the percent of Latinos in the labor force increase and the absolute number of Hispanic workers shoot up, their earning capacity improved.
According to a recently published report by the Pew Hispanic Center, foreign born Latinos earned more money per hour in 2005 than they did ten years earlier. Newly arrived Hispanics between those years also fared better, according to Rakesh Kochhar, associate director for Research, Pew Hispanic Center.
---
Target Latinos effectively by anticipating changes in the market with
"Hispanic Projections with 2007-08 update" audio recording

Presenter Roger Selbert, Ph.D.
Find out
About Latino buying power growth in the future
How Latino market growth compares with other markets in the U.S.
What drives the rise of Latino economic clout
Who should target the Latino market
What is the size of the Hispanic affluent market
If the luxury Latino market is growing 
Stay ahead of your competion with "Hispanic Projections"
---
Kochhar concluded this is due to the arrival of better educated Latinos more likely to become employed in construction than in agriculture. At the same time that wage earning capacity of Latinos escalated to the middle of the range from the low end, wages for Asians jumped to the high end.The Pew report was based on the Census Bureau Current Population Survey, a monthly survey of 60,000 families. The report did not distinguish between documented and undocumented immigrants or the earning capacity of each group.
The Pew Hispanic Center, an initiative of the Pew Research Center, is a non-partisan, non-advocacy research organization based in Washington, D.C. The Pew Hispanic Center is funded by The Pew Charitable Trusts.