Posted by Elena del Valle on September 21, 2007
Actress Angélica Vale and Ronald McDonald aboard the Museo de la Música McDonald's 
Photos:  Museo de la Musica McDonald's
In an effort to win Latino hearts with music, McDonald's recently announced a Latin Grammy oriented campaign including a Latin music museum on wheels. The other elements of the campaign are Latin Grammy Street Parties with performances from Latin music artists; and a national sweepstakes for a trip to the music awards ceremony in Las Vegas.
The Museo de la Musica McDonald's, a 53 foot long and 23 foot wide truck filled with Latin music memorabilia from 38 artists, will be touring seven United States cities: Albuquerque,  Phoenix, Chicago, Los Angeles, New York, Dallas and the City of Hialeah near Miami. The program began with the Museo launching September 6, 2007 in Los Angeles and will tour from September 9 to October 28, 2007.
Some of the memorabilia featured in the vehicle, which took a month and a half to build, include Selena's iconic purple jumpsuit and her microphone; a wig, dress and heels that once belonged to Celia Cruz; a guitar autographed by Mana; a dress worn by Graciela Beltran during White House festivities; and the bottle of Remy Martin featured on Johnny Pacheco's album "Champ." There are also items from Tito Puente, El Gran Combo, Juanes, Maná, Alejandro Fernández, Ramon Ayala, Héctor Lavoe, Israel "Cachao" Lopez, Pitbull and Santana.
---
Find out which Latino markets are booming with
"The Next Step: Secondary Latino Markets" audio recording

Presenter Dora O. Tovar, MPA
 Click here for information on Secondary Latino Markets
---
Once on site, a hydraulic system enables the vehicle to expand in width to simulate a regular museum experience. Inside the truck, plasma screens feature a video loop of Latin music genres like regional Mexican, Tex-Mex, salsa, merengue, pop, bachata, and rock.According to promotional materials, the tour will include a Gibson Guitar POD Station with musical demonstrations, and a scholarship station where visitors can obtain information about the Ronald McDonald House Charities and HACER Scholarship Program. 
"This year, McDonald's will celebrate the 8th Annual Latin Grammy's in a big way by bringing all the excitement right to our fans in our Hispanic communities," said Cristina Vilella, director of Marketing, McDonald's USA. "Our sponsorship role this year continues our long history of supporting Latin music and providing quality live music events for our customer's enjoyment."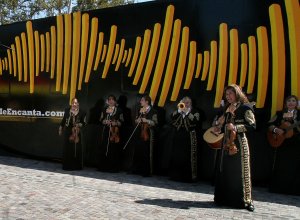 Exterior of the Museo de la Música McDonald's
"The Latin Recording Academy is thrilled to have McDonald's as a presenting sponsor of the 8th Annual Latin Grammy Awards, and recognizes its efforts to support initiatives that bring Latin music to the general public through the Latin Grammy Street Parties, the McDonald's Museo de la Música and the 8th Annual McDonald's Latin Grammy Awards Sweepstakes," said Gabriel Abaroa, president of the Latin Recording Academy.
The McDonald's 8th Annual Latin Grammy Awards Sweepstakes will give away ten grand prizes consisting of a trip for two to attend the 8th Annual Latin Grammy Awards show in Las Vegas on November 8, 2007. The prize includes round-trip airfare, hotel accommodations for a two-night, three-day stay in Las Vegas and a $500 gift card. 
There are 261 Hispanics who own and operate 851 McDonald's restaurants in 35 states with combined revenues exceeding $1.8 billion. McDonald's USA, LLC, is a leading foodservice provider in the United States serving fast foods to millions of customers every day. More than 80 percent of McDonald's 13,700 U.S. restaurants are independently owned and operated by local franchisees. Ronald McDonald House Charities, a non-profit, 501 (c) (3) corporation, creates, finds and supports programs that directly improve the health and well being of children.