Posted by Elena del Valle on September 19, 2007
Bibi Gaytán, spokesperson for Kraft Foods' De mamá a mamá program
Photo: Kraft Foods
Kraft Foods and several of its most popular brands has hired Bibi Gaytán, a Mexican actress and mother, to be the face of the company's De mamá a mamá and From Mom to Mom program that target busy Spanish dominant Latino mothers. The program includes Spanish language spots, in-store demonstrations and a website.
"As any mom, I am always exploring new ways to be 'supermom', while spending quality time with my children and providing them with smarter lifestyle choices so they can keep their bodies and minds strong," said Gaytán. "I am excited to work with Kraft Foods on this program to share a wealth of valuable information, ideas and inspiration with Latina moms to help them balance their two worlds."
The program, divided into Quick Idea, Smart Food Choices and Spending Time with the Family, includes ideas and tips centered on Kraft products for Hispanic moms, especially Spanish dominant Latinas who wants to make a speedy meal.
---
"Latino Family Dynamics" audio recording


 Brenda Hurley and Liria Barbosa
Discuss
Latino purchasing habits and products they favor
Latino family characteristics
Latinos and extended families
Division of duties, responsibilities within the family
Who is the decision maker in the Latino family
Who is the information provider in the Latino family
Click here to find out about Latino purchasing habits and "Latino Family Dynamics"
---
"With the Kraft brands that moms know and trust and our Kraft Kitchen experts, we can help create avenues in which Latina mothers can receive, share and incorporate solutions into their everyday life," said Yolanda Angulo, director of Multicultural Marketing for Kraft Foods. "We know how time consuming being a mom can be and how important it is to spend quality time with loved ones. Working hand in hand with Bibi Gaytán on our De mamá a mamá program, we can help Latina mothers across the U.S. make every day special for their families."
The Kraft De mamá a mamá program incorporates a series of television vignettes and radio spots showcased in Hispanic markets. Also in the works are in-store demonstrations in Texas (San Antonio, Dallas, Houston, McAllen, Harlingen and Brownsville), Miami, New York and Los Angeles. Media workshops for mothers will feature Gaytán and a Hispanic Kraft Kitchen expert. When we visited the program's bilingual website, the home page showcased five articles, a Spanish language video of Gaytán and the home maker's biography. There were also links to Recipe Exchange, Comida y Familia, Cooking School, Healthy Living, Promotions and Our Products sections.
Mexican-born actress and singer Gaytán gained popularity by acting in many popular telenovelas and when she joined the musical group Timbiriche in 1989. After meeting actor Eduardo Capetillo on the set of her last telenovela, she married and retired from show business to focus on being a wife and mother.
Kraft Foods, one of the world's largest food and beverage companies, has annual revenues of more than $34 billion. Kraft markets a broad portfolio of brands in 155 countries, including seven brands with revenue of more than $1 billion, such as Kraft cheeses, dinners and dressings; Oscar Mayer meats; Philadelphia cream cheese; Post cereals; Nabisco cookies and crackers; Jacobs coffees and Milka chocolates.
---
"Marketing to New Hispanic Moms – a case study" audio recording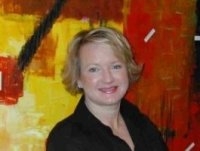 Presenter Cynthia Nelson, COO, Todobebe
Find out about
• New Latina mom market
• Baby demographics including market size, profile
• New moms' language preferences
• Latino baby market trends
• Factors influencing Hispanic baby market
• Location of new Hispanic moms' market
• Issues affecting new Latino moms
• Todobebe strategies
Click here to purchase "Marketing to New Hispanic Moms – a case study"

---