Posted by Elena del Valle on September 18, 2007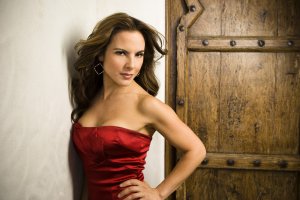 Kate del Castillo, host, The History Channel en español Hispanic Heritage Month programs
Photo: Michael Grecco
Beginning this fall, Mexican actress Kate del Castillo will be the spokesperson for The History Channel en español Fall Programming Initiative. During Hispanic Heritage Month, the television and film star will accompany Spanish speaking viewers on a Latino history journey. From mid-September through mid-October, del Castillo will join the network in a special tribute, highlighting Latin American history and some of its protagonists, introducing seven documentary films to Spanish speaking television viewers.
The films are "The Pinochet Case," (airing September 11), "The Sugar Curtain" (airing September 15), "Señorita Extraviada" (Missing Young Woman, airing September 16), "Mexican Migration to the U.S." (airing September 23), "The Private Archives Of Pablo Escobar" (airing September 30), "The True Story of Che Guevara" (airing October 7) and "A Place Called Chiapas" (airing October 14).
"I'm honored to be able to share with a diverse audience some of the remarkable achievements and important aspects of the history and culture of our people," said del Castillo. "And I'm proud to introduce these important films as we celebrate The History Channel en español new Fall Programming Initiative."
---
Reach Latinos consumers with electronic publicity tools with
"Electronic Publicity and Broadcast Public Relations" audio recording

David Henry presenter
Broadcast publicity expert David Henry shares insights drawn from years of experience to help you target Latinos effectively during this presentation and interview.
Find out
How to reach Latinos with electronic publicity
How many TV stations offer news programming in Spanish in the U.S.
Which markets have the number one newscasts in Spanish
Which markets offer bilingual news TV programming
Much more
 Click here for information on  Electronic Publicity and Broadcast Public Relations
---
"The Pinochet Case," a 109-minute production directed by Patricio Guzmán, describes the landmark legal case against General Augusto Pinochet of Chile, before and after his arrest in London in 1998. It explores how a small group of people in Madrid laid the groundwork to catch a dictator 25 years after his rise to power. "The Sugar Curtain" is described in promotional materials as an intimate portrait of a generation that began its studies in primary school when the Cuban regime was at its best economically, the mid-1970s. The film recounts this generation's childhood and explores what happened later, when the socialist regimes of Eastern Europe ceased to exist. It was at that moment that Cuba was left without allies, money or petroleum and the ideals of this generation were dismantled under the paralysis of the system. The 90-minute film was directed by Camila Guzmán Urzúa.
The 74-minute "Señorita Extraviada" documentary, directed by Lourdes Portillo tells the story of the hundreds of women who have been kidnapped, raped and murdered in Juárez, Mexico since 1993 without any hope of bringing the perpetrators to justice. The film investigates the circumstances of the murders and the horror, fear and courage of the families whose children have been taken.
The two-hour special "Mexican Migration to the U.S." looks at President George W. Bush' signing of Resolution 6061 in October 26, 2006 authorizing exploration of a wall extending 1.123 kilometers to be constructed along the Mexico and United States border. During the program, The History Channel en español explores the key historical events leading up to this act, from the Mexican-American War in 1846 to today's efforts to deny entry to Mexican immigrants attempting to cross illegally into the country.
---
Hispanic Marketing and Public Relations Understanding and Targeting America's Largest Minority book

"A must resource for practitioners/professionals expecting to reach US Hispanics; also valuable for college programs in marketing, public relations and communications. Highly recommended."
 Choice magazine
Click here for information on Hispanic Marketing & Public Relations
---
The 70-minute production "The Private Archives Of Pablo Escobar," directed by Marc de Beaufort, provides viewers a glimpse into the life of Pablo Escobar, one of Colombia's most infamous drug lords. With the help of his surviving family members, former associates, and over 600 hours of rare archival footage, the documentary gives viewers an idea of his former home, fortune, and daily routine. It also offers some explanation of his contradictory reputation, and chronicles his rise from a small-time crook to a politically influential drug lord.
"The True Story Of Che Guevara" 120-minute special offers an new look into Ernesto "Che" Guevara's life with interviews from family members and associates. The film depicts his affluent upbringing in Argentina, the blood-soaked battlefields of the Cuban revolution, his victories and defeats and his eventual assassination in the presence of the CIA in the jungles of Bolivia.
The last program, "A Place Called Chiapas" is an 89-minute documentary directed by Nettie Wild, based on firsthand accounts of the lives of the Zapatistas, led by Subcomandante Marcos. It takes viewers deep into rebel territory in Mexico's Chiapas region, where the Zapatista rebels live and die challenging the Mexican government. Some of the documentaries of The History Channel en español are available for purchase and download for $1.99 for episodic TV programs and $3.99 for specials on the iTunes(R) Store including "State of Fear," biographies of Frida Kahlo, Diego Rivera, and Che Guevara, and "The True Story of Killing Pablo."
Del Castillo can be seen in "Trade," sharing scenes with Kevin Kline; and "Black Pimpernel," the Sweden,Norway and Mexico co-production where she portrayed a revolutionary in Allende's Chile, with Michael Nykvist. Upcoming projects include "Julia," with Tilda Swinton, and "La Misma Luna," with Eugenio Derbez. Del Castillo was nominated for an Ariel Award in Mexico for her performance as a dancer and prostitute from Bolivia in "American Visa."
The History Channel is a leading cable television network featuring original, non-fiction specials and series that bring history to life across multiple platforms. The History Channel en español is one of four domestic television networks of The History Channel brand. The others are The History Channel, History International and Military History Channel.The History Channel en español is available on the Hispanic tier on the nation's top cable systems including Comcast, Charter, Adelphia, Insight, Cox, Cablevision, and NCTC, representing more than 29 million subs in Hispanic markets including Atlanta, Boston, Dallas-Fort Worth, Miami, New Jersey, Las Vegas, Philadelphia, Southern California, and Tucson.