Posted by Elena del Valle on September 14, 2007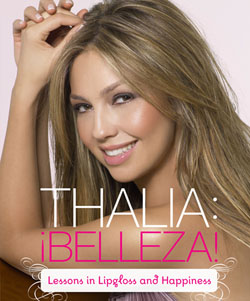 Thalia: Belleza! Lessons in Lipgloss and Happiness cover
Photo: Chronicle Books
Singer Thalia shares beauty tips in a new 208-page book, Thalia: Belleza! Lessons in Lipgloss and Happiness (Chronicle Books, $19.95) due out October 2007. Known for her singing, she's had four top hits and sold over 12 million albums worldwide, the Mexican celebrity is recognized by telenovela fans in 180 countries. She has an ABC radio talk show and now counts publishing a book among her accomplishments.
Thalia: Belleza! Lessons in Lipgloss and Happiness, released in English and Spanish simultaneously, has illustrated chapters on skin, hair, makeup, and inner beauty. In the book, Thalia shares personal beauty secrets, beauty dos and don'ts, and beauty tips gleaned from working with top makeup artists and hairstylists. Color photos illustrate techniques and before-and-after features.
According to promotional materials, both books will be supported by a major national marketing campaign, with in-store appearances, podcasts, online promotions and a multi-tiered publicity campaign, including print, online, and national TV and radio.
Thalia began her career as a child star on Mexican television and theatre. A recording artist for EMI Music, she has been nominated for four Latin Grammy awards. She has had twelve Top 10 singles, four of which went to number one. Thalia received two Latin Billboard Awards and several Premio Juventud Awards. She has been named one of People Espanol Magazine's "25 Most Beautiful" on two separate occasions.
In 2003, she launched the Thalia Sodi Collection line of apparel and accessories at Kmart. According to promotional materials, her Kenmark line of eyewear for women and girls topped $100 million in sales. She teamed up with Hershey's to launch a line of co-branded candies, La Dulceria Thalia. This year, there are plans for an album release.
Founded in 1967, the Chronicle Books mission is to create and distribute exceptional publishing that's instantly recognizable for its spirit, creativity, and value.
---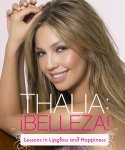 Click here to purchase Thalia: Belleza! Lessons in Lipgloss and Happiness
---
"Latino Family Dynamics" audio recording


 Brenda Hurley and Liria Barbosa
Discuss
Latino purchasing habits and products they favor
Latino family characteristics
Latinos and extended families
Division of duties, responsibilities within the family
Who is the decision maker in the Latino family
Who is the information provider in the Latino family
Click here for more about "Latino Family Dynamics"
---