Posted by Elena del Valle on August 31, 2007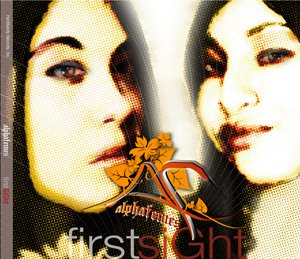 "First Sight" cover
Photo: HardKandy Records Inc.
Latina vocalist and guitarrist Florencia Bourdin and her music partner keyboardist Diana Dulanto, Alphafemes, like pop rock. Inspired by the likes of Gwen Stefani, Pink, and Guns N' Roses they are about to see some of their dreams come true with the release of their first album, "First Sight," by Record Label HardKandy Records Inc. Coincidentally it's the New Jersey record label's tenth album and its tenth year in business.
Live Alphafemes perform as a trio or a quartet. In the studio they are a duo. The album "First Sight" was produced by veteran independent producer Brother Noyze the Mad Musician (G.L.Hines).
  Alphafemes
The teenagers, Bourdin, a native of Uruguay, and Dulanto from Peru, met at a high school history class and hit it off. While Bourdin likes to sing, Dulanto's love is song writing. They each grew up with music in their lives and developed the passion for music that eventually brought them together.
To listen to the single "A Moment" from the "First Sight" album click the button to hear the podcast:
---
"Emotional Branding: How to capture the heart and mind of the Hispanic consumer" audio recording


"Emotional Branding" was recorded January 2007 during the Strategic Research Institute 13th Annual Blockbuster Marketing to U.S. Hispanic and Latin America conference in Miami, Florida. Receive a free downloadable copy by completing our Visitor Survey.
Click here for your free copy of Emotional Branding
---