Posted by Elena del Valle on August 27, 2007
KR Jones, author, The Ghosts of Guantanamo Bay
Photo: KR Jones
A podcast interview with KR Jones, author, Ghosts of Guantanamo Bay, is available in the Podcast Section of Hispanic Marketing & Public Relations, HispanicMPR.com. During the podcast, KR discusses her fiction novel with Elena del Valle, host of the HispanicMPR.com podcast.  
K.R.  was born and raised on Long Island, New York, and called Northport her home. Creative at an early age, she acted in plays, sang in musicals, and even played the keyboard in an amateur rock band. She began her first novel when she was 14. Although she didn't get beyond nine chapters, the project became a turning point in her life, helping her realize her true passion was telling stories.
Her years at Marymount College of Fordham University set the stage for the kinds of books she would later write. Her studies in political science and international relations included a year at Humboldt Universitat in East Berlin and the Universidad de Salamanca, Spain. Her adventures abroad made her long to bring what she learned and experienced to the pages of intriguing and suspenseful novels. She worked at the United Nations Social and Economic Council, and was a researcher for a major lobbying firm in Washington DC, where she learned about the political world.
Married to a Marine Corps officer, she spent the next several years at various duty stations around the country, before a final two-year tour of duty at U.S. Naval Base Guantanamo Bay, Cuba. It was this tour which inspired her to write her first novel, The Ghosts of Guantanamo Bay. Today she lives and writes in rural northern Virginia with her husband, and two children.
To listen to the interview, scroll down until you see "Podcast" on the right hand side, then select "HMPR KR Jones," click on the play button below or download the MP3 file to your iPod or MP3 player to listen on the go, in your car or at home. To download it, click on the arrow of the recording you wish to copy and save to disk. The podcast will remain listed in the August 2007 section of the podcast archive.
---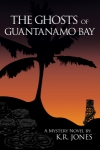 Discover why so many readers are fascinated with KR Jones first novel, The Ghosts of Guantanamo Bay
---
Click the button to hear the podcast: